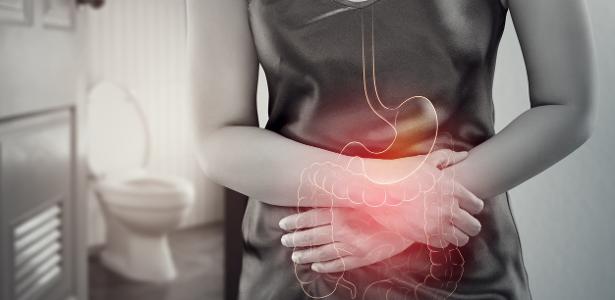 Many people think that daily evacuation is not a sign of constipation. But according to the American College of Gastroenterology (CAG) this is a myth. If your intestines work up to 3 times a week or even 3 times a day, relax because everything is fine. In constipation, it doesn't matter that you'll "be a watch": what defines is the presence of hard stools, their small volume and a feeling of incomplete bowel movement.
Constipation or constipation are considered a fairly common complaint that affects about 16% of the population around the world. The problem most concerns women who can manifest themselves at any age, from childhood to adulthood, when its prevalence increases in people over 65 years of age.
Some of these groups will still suffer from bowel movements, and will also have stomach bloating.
That is why most live with constipation for years, therefore chronically, but difficulties in evacuation may appear suddenly, especially during periods when there are changes in diet, travel or between bedridden patients. In these intestines it moves more slowly due to lack of physical activity or the use of drugs.
Why is this happening?
For 8 out of 10 people, the problem is related to poor lifestyle habits, i.e. inadequate diet, lack of physical activity and poor hydration.
"Another very common cause, especially in women, is so-called functional constipation: the disease has not been physically identified," explains Joaquim Prado P. Moraes Filho, professor of gastroenterology at FMUSP (University of São Paulo School of Medicine). and board member of the FBG (Brazilian Federation of Gastroenterology).
Learn about other causes, some rare, others more common:
Metabolic
neurological
Structural diseases of the colon or rectum (obstruction of the mouth)
Medicines
Anti-inflammatory drugs
Contraction
Calcium drugs
Antidepressants
opioids
psychogenic
Emotional or mental problems
Age
Among the elderly, loss of abdominal muscle strength, use of medicines and degenerative diseases (Alzheimer's and Parkinson's disease)
In children, the same causes as in adults, in particular nutritional errors and psychogenic factors, in addition to Hirschsprung's disease.
Pregnancy
Hormonal and metabolic changes
How to recognize the symptoms
In addition to the evacuation difficulties, you may also notice the following signs:
Abdominal cramps;
Difficulties in eliminating gases;
Nausea;
Flatulence;
Rectal pain due to dry stool and an enlarged fecal bolus, which causes cracks in the anus that can bleed.
When is the time to seek help?
José Joaquim Ribeiro da Rocha, professor of the Department of Coloproctology of the Hospital das Clínicas of the FMRP-USP (University of São Paulo at Ribeirão Preto Medical School) reports that people generally get along with home-based solutions or self-medication and can take years without seeking medical help. These people do not know that "self-medication is inaccurate, does not remove the cause of constipation, and even worsens the image," he says.
According to the expert, the ideal solution is to make an appointment to realize that the symptoms persist for more than 30 days without improvement.
Also pay attention to the warning signs: Constipation began after the age of 40, there is blood in the stool; weight loss hardening of the stomach or a stroke of stool (hardening of the stool). If you notice any of these situations, immediately make an appointment for evaluation by a gastroenterologist or proctologist.
Among children, parents should see a pediatrician when symptoms persist for more than 2 weeks or gradually increase soon after birth.
How is the diagnosis made?
The doctor will collect data on clinical history, lifestyle and personal and family history, as well as take physical and proctological tests. Additional tests may be required not only to determine your overall health, but also to detect any disease related to your complaint.
Depending on the case, the most important tests are contrast radiography of the large intestine (opaque enema), colon transit time, blood tests and colonoscopy (if any), rectal biopsy and anorectal manometry – to assess blood pressure. anal area muscles.
Among older people, in addition to age specificity, it is necessary to examine colorectal tumors.
How is the treatment done?
After defining the diagnosis, the therapeutic approach is always personalized. Sandra Beatriz Marion, professor of medicine at PUC-PR (Pontifical Catholic University of Paraná), explains that in most cases, therapy involves changing your lifestyle.
Patients receive tips on diet, hydration and physical activity, as well as strategies for establishing a new bowel routine. Drugs based on natural fibers that can be in constant use may also be helpful.
"The first thing you need to know is that there is no miracle drug that will make your gut work all your life," says the doctor. "If there is no patient partnership, if he is not aware of the importance of this basic care, he will not achieve the desired result," he adds.
For people who do not respond to this strategy, many drugs are available, such as those that moisturize the stool (osmotic laxatives) or make them more greasy (emollient). There are also medications that work to balance the type of serotonin in the gut.
Recent options are annoying laxatives, exactly the ones people use first in self-healing. Very strong, they have an immediate effect, but if they are used for a long time, they damage the nerves of the intestine (atherosclerosis). The result is that constipation only gets worse.
Therapies for more complex cases
When constipation is more severe, especially in women, and the cause is unknown, in addition to all the options described above, treatment may have a surgical solution with removal of the large intestine or total colectomy (removal of the colon).
Recently, cross-neuromodulation, a pacemaker in the lumbar region, which emits electrical stimuli in modular nerves has been used.
Learn how to adjust your diet
The correct consumption of soluble fibers is associated with the proper formation of feces in the bolus, with softer and larger stools, and insoluble fibers accelerate intestinal transport. Their indicated daily intake is 25 g / day. And it makes no sense to eat 5 leaves of lettuce and 1 tomato a day! These elements contain 0.9 g and 1.5 g of fiber respectively.
Add adequate water consumption to fiber (it should be calculated according to its weight: 0.35 ml per kilogram) and avoid a sedentary lifestyle. Even the introduction of probiotics and prebiotics into the diet may be beneficial and necessary.
Tips from a dietitian are welcome. This is due to the fact that "not everyone reacts to the same diet and should therefore be evaluated individually, always taking into account their habits, restrictions and dietary preferences to ensure a better result," explains dietitian Camila Naegeli Caverni, clinical dietitian and master of EPM -Unifesp (Paulista School of Medicine, Federal University of São Paulo).
Remember that for some people, changing their eating habits is very helpful, but it doesn't completely solve the problem. In this case, the gastroenterologist and dietitian should work together to provide better results.
How to cooperate with treatment
Constipation cannot always be prevented. However, careful fiber intake should be a lifelong habit. In addition, always be well hydrated and perform regular physical activity.
You can also take the following steps to avoid discomfort associated with the crisis or work with therapy:
Make an appointment to go to the bathroom, preferably in the morning after breakfast – or after a meal;
Go to the bathroom when you feel the need to evacuate. Avoid delaying this urgent need;
I prefer natural and all food;
Drink at least 1 liter and 1/2 fluid a day;
Learn how to read product labels that you consume to identify their fiber content;
Avoid eating processed and ultra-processed foods, such as white rice, refined wheat flour, corn flour, flour;
Prioritize at the table: beans, lentils, peas, brown rice, linseed, oats, corn, rye flour, vegetables (all), fruits (all);
Maintain satisfactory physical activity – 30 minutes, 4 times a week.
Sources: Joaquim Prado P. Moraes FilhoProfessor of gastroenterology at FMUSP (Faculty of Medicine of the University of São Paulo) and member of the board of the FBG (Brazilian Federation of Gastroenterology); Jose Joaquim Ribeiro da Rocha, professor of the Department of Coloproctology of the Department of Surgery and Anatomy, Hospital das Clínicas, FMRP-USP (University of São Paulo at Ribeirão Preto Medical School) and the doctor responsible for Ribeirão Preto Proctogastroclinics; Sandra Beatriz Marion, Professor of the medical course at PUC-PR (Pontifical Catholic University of Paraná), gastroenterology specialist and qualified endoscopist; Camila Naegeli Caverni, clinical dietitian at Headache Center Brazil and master's student at EPM-Unifesp (Paulista School of Medicine, Federal University of São Paulo). Technical review: Sandra Beatriz Marion.
Reference: Ministry of Health; ACG (American College of Gastroenterology); Maria Vazquez Roque, Ernest P. Bouras. Epidemiology and treatment of chronic constipation in elderly patients. Clin Interv Aging. 2015; Treatment of constipation: review of systematic reviews. Rapid response report: Summary with critical assessment. Ottawa (ON): Canadian Agency for Drugs and Technology in Health; 2014
Source link