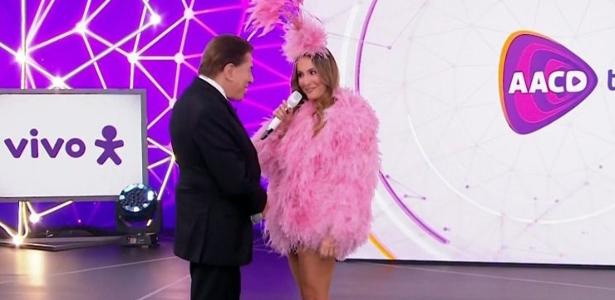 The whole week of Teleton's preparations, ending with the collection of AACD records, had only one caveat: the vivid participation of Silvio Santos, the owner of the SBT.
Teleton is the only season of the year in which the presenter and entrepreneur appear on television.
One of the concerns, divided between the production and the Abravanel family, was above average: Silvio Santos is 88 years old and is exposed to adverse weather.
All your programs are recorded. When he does not feel well, cancel the recording and that's all. But Teleton is live.
The second concern was much less tangible and was related to the unpredictability of today's entrepreneur.
Could Silvio not give the national network? Would he keep his tongue, heavy jokes, give light air that deserves an event that needs and arouses the empathy and generosity of viewers?
For the second concern turned out to be more than justified and, unfortunately, everyone's fear materialized.
The closing of the 20th Marathon in favor of AACD ended with a record collection, but also one of the most embarrassing moments in the history of not only Silvio Santos, but also Brazilian television.
By making very brutal comments on Claudia Leitte at the end, when she said she was aroused by him – and therefore she preferred not to embrace her – the SBT owner did not respect the human being, artist, mother, wife and daughter at the same time. He did not respect all the viewers. AACD. Teleton ,.
He also did not respect his wife, Iris, daughters and servants of her position; who were with him in the air, in what should be a great moment and result of an event that has the most altruistic goal.
I learned that a large part of the elect president's team, Jair Bolsonaro, advised that he did not personally attend Teleton during the whole week. Even on the link.
Because you can not risk the media with a person who acts as unworthy. This is above good and evil, which behaves as free from knowledge of what is good and what is obviously bad.
The acquaintance present at Teleton told me that shortly before the SBT owner left the antenna yesterday, Patricia's daughter came up to him and said: "Look there, what?
Patricia was visibly uptight and worried that her father would spend a lot of nonsense or rudeness at such a noble time.
He had every reason.
READ MORE
Silvio refuses to accept Claudia Leitte; I'm excited
"I'm nervous," says Patricia about the nonsense that my father says on television
Despite the noble cause, Teleton must renew itself as a television
Source link