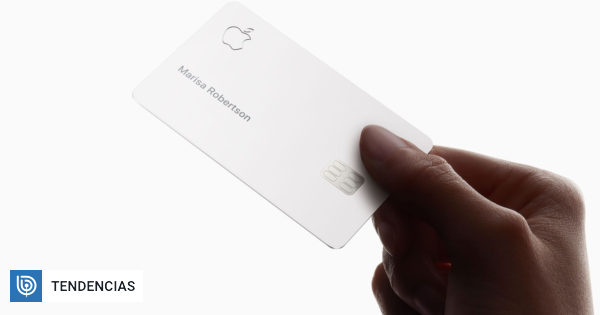 Turn Apple towards services to counteract the decline in sales of its iconic iPhone This was done with the arrival of credit cards for the general public on Tuesday and the launch of the video streaming service in November.
From Tuesday, a credit card made of titanium, with the usual elegant Apple aesthetics – with the name, chip and distinctive apple – is available to the public in the United States.
In addition, the agency Bloomberg said that Apple TV +, the US company's streaming service will be released in November, although the company did not immediately respond to AFP news agency's questions regarding release date and offer details.
Two new products, which were announced at the end of March, are part of the arsenal that Apple introduces as a strategy to stop relying on the iPhone, whose sales have fallen. Now the iPhone accounts for less than half the turnover, while services are just over 20%.
Apple, whose total turnover was $ 265.6 billion in fiscal year 2018 ended in September, it expects to earn 50,000 million through its range of services in 2020.
The credit card, introduced in cooperation with Goldman Sachs and Mastercard, is to be better than its competitors: safer, offering unique codes for online purchases, cheaper, without annual fees and lower interest rates promised by Apple.
It also offers, like many competitors, a refund of up to 3% for every purchase made using an electronic wallet associated with a physical card, designed to help the customer manage their expenses better.
In addition, Apple promises total discretion during the scandals of misuse of private data. The company said it would not know about the use of customers, and Goldman Sachs promised not to disclose data to third parties for advertising or marketing purposes.
The card has been used by a small number of customers since the beginning of the month, and according to Jennifer Bailey, superior of Apple Pay, the answer was "positive".
Streaming power
Apple's huge jump into video took two forms: the face lift of an existing Apple TV application that allows access to other platforms in addition to the iTunes Store content, but above all a subscription to the streaming service that will provide access to the original content produced by Apple (movies, series, documentaries) e.t.c.).
Apple did not skimp on big stars during the presentation of this new service in March: it had participated Steven Spielberg, Oprah Winfrey, Jason Momoa and duo Jennifer Aniston and Reese Witherspoonwho will be the heroes of the series The Morning Show
Everything seems to indicate that Apple will launch its platform at a key date to try to compete Disney +, the Mickey Kingdom streaming service, which will premiere on November 12 and will feature a large family catalog.
According to Bloomberg, whose sources are anonymous, Apple may offer a free trial period to expand and popularize its catalog of original productions, because Amazon, Disney or Netflix have an extremely wide range.
The Financial Times reported this Apple expects to earn $ 6 billion with original content Netflix He earned around $ 14 billion this year.
In addition to Apple Pay, Apple TV +, App Store, Apple Music and iCloud, the group based in Cupertino, California, also wants to expand its service offer by introducing a video game subscription to Apple Arcade this fall. Finally from the end of March offers Apple News +, a single subscription system for $ 9.99 (7,000 Chilean pesos) per month, which gives access to over 300 informational publications, especially magazines.