This Tuesday, December 1, reported the mayor of Bogota and several city secretaries what will be the most important measures for the celebration of Christmas and New Years in the capital of the country.
Bogotá authorities have been too firm to give priority to citizens outdoor activitiesinstead of mass accumulating in confined and poorly ventilated places.
"Candles outside. Ninth outside. With the best distance, always with a mask, much better than large family meetings closed, at home, in poorly ventilated places "said Mayor Claudia López. The president also announced that there will be around 2,000 cultural presentations for citizens during this month to have fun outdoors.
Gunpowder restrictions in Bogota in December
López confirmed that in 2020, as for 25 years, Gunpowder will be absolutely banned in Bogota. In this sense, the authorities welcomed the fact that the Cundinamarca department had made the same decision for the first time in history. In any case, checkpoints will be installed at different entrances to the capital of the country, which will try to prevent the secret entry of gunpowder.
Parents would be punished if their children were injured by a gunpowder burn. The mayor stated that these penalties for them could be translated into "There are fines of up to 5 monthly minimum wagessanctions such as community work and even criminal prosecution for injuring minors.
The only thing that is allowed in this area are pyrotechnic shows performed by experts and professionals.
In any case, López said that Bogota's mayor's office would not spend a single peso on institutional pyrotechnic displays. "We decided to transfer these resources instead of pyrotechnics to our local culture managerswhich will be presented in all places during about 2,000 cultural presentations in order to enjoy Christmas outdoors "- declared the president.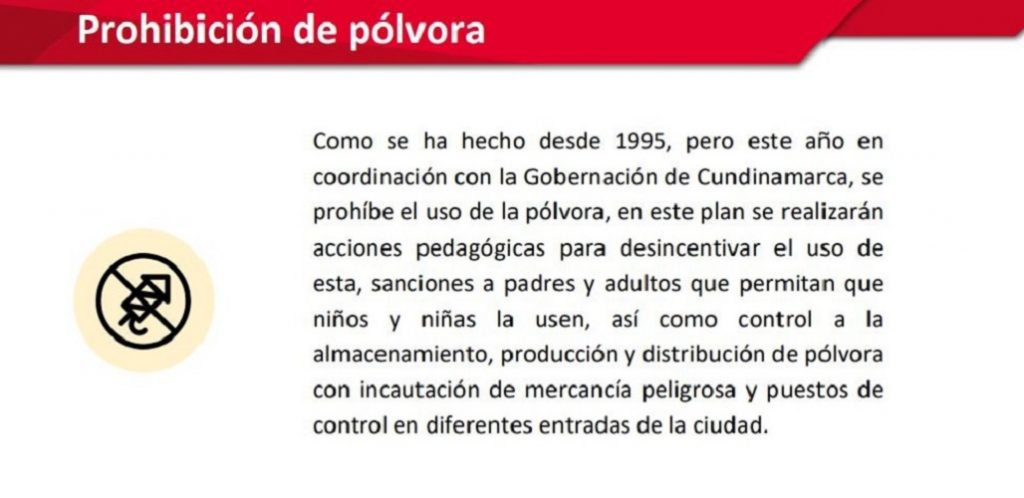 Measures on alcoholic beverages in Bogota in December this year
In this section, the Mayor's Office advocated upholding the rules that have governed commercial enterprises and citizens in recent months. So things The sale of alcohol will be completely forbidden every day from 22:00 to 10:00
Then measures and restrictions related to alcoholic beverages that are held in Bogota for December 2020:
Consumption of alcoholic beverages is permitted indoors, outdoors or in gastronomy.
Citizens who want to buy the drink can do so until 22:00
Alcohol cannot be sold anywhere from 22:00 to 10:00.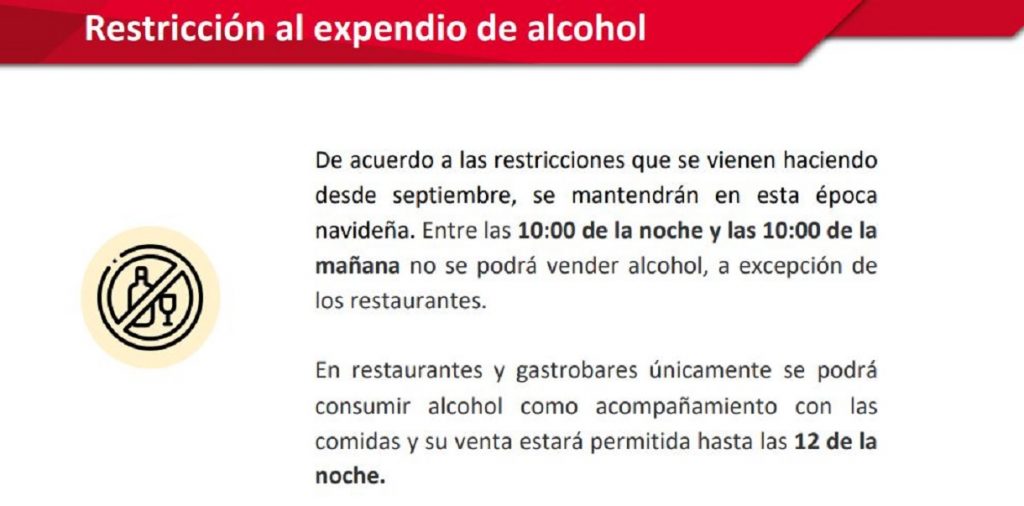 Will there be a curfew in Bogota in December 2020?
Mayor Claudia López has confirmed that she has no plans to establish a curfew on any of the special end-of-year dates.
This is what the mayor said about the sale and consumption of alcoholic beverages at this end of the year:
window.onload = function() {
//FB
!function (f, b, e, v, n, t, s) { if (f.fbq) return; n = f.fbq = function () { n.callMethod ? n.callMethod.apply(n, arguments) : n.queue.push(arguments) }; if (!f._fbq) f._fbq = n; n.push = n; n.loaded = !0; n.version = '2.0'; n.queue = []; t = b.createElement(e); t.async = !0; t.src = v; s = b.getElementsByTagName(e)[0]; s.parentNode.insertBefore(t, s) }(window,document, 'script', 'https://connect.facebook.net/en_US/fbevents.js');
fbq('init', '764195073695685'); fbq('track', 'PageView');
// Log content views fbq('track', 'ViewContent', { content_ids: 'PP1008802', content_name: 'Medidas para diciembre en Bogotá sobre alcohol y pólvora', content_category: 'Nación', content_type: 'product', scroll_position: 0, platform: 'web', });
}//End window onload