[ad_1]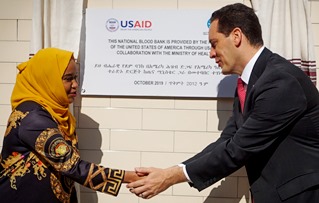 The US government helped open a $ 5 million national blood bank in Ethiopia.

On Saturday, Mission Director of the United States International Development Agency (USAID) Sean Jones and Minister of State Saharla Abdulahi officially inaugurated the construction of the new headquarters of National National Bank Services Services.
The new facility will provide National Bank Bank Services with the ability to receive significantly more blood donors, more efficient blood product screening and processing, and life-saving blood distribution to health centers and patients across the country.
Thanks to USAID and the US President's Emergency Plan to Help AIDS (PEPFAR), the United States has invested $ 65 million in building and improving health infrastructure in Ethiopia over the past five years.
In addition to the new blood bank, the project has built a total of 22 new health centers and 10 pharmaceutical warehouses, and another 10 existing health centers have been renovated. These infrastructure projects complement the wider investment and long-term partnership between the United States and Ethiopia to strengthen the national healthcare system and improve the quality of care.
The inauguration of the National Bank Bank Services facility also coincided with the launch of the Ministry of Health's national blood donation campaign, which aims to register 100,000 new blood donors and collect 10,000 blood units.
The United States is the largest bilateral support provider for the healthcare sector in Ethiopia, with approximately $ 150 million annually to fund HIV / AIDS; malaria; mother, newborn and baby health; nutrition; tuberculosis; and water, sanitation and hygiene. In total, the United States has provided Ethiopia with approximately $ 4 billion in development and humanitarian aid over the past five years.
[ad_2]
Source link