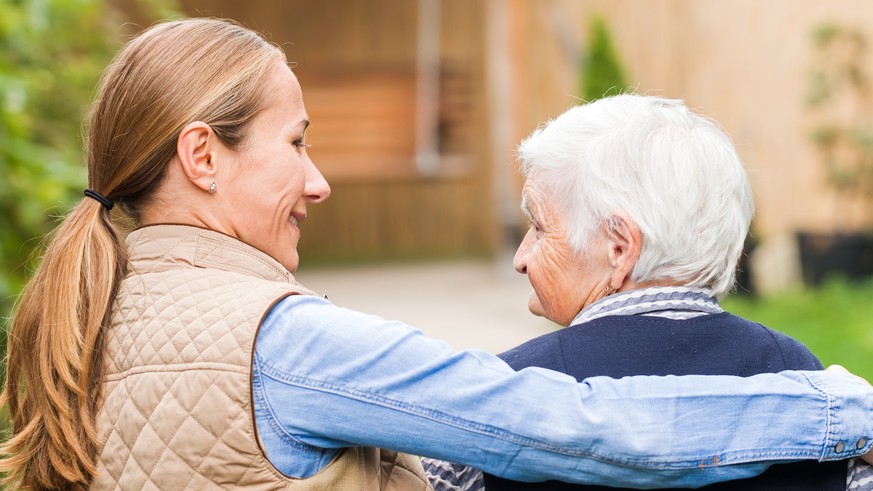 Literally dementia means "deprivation."
In Switzerland, dementia is rising – because disease will change our society
By 2040, 300,000 people with dementia will live in Switzerland. This will change our society in a sustainable way. Like a village in the mountains, a house without closed doors and a 51-year-old just forgotten.
"This is the worst disease available," says Giuseppe Passoli. "My wife dies a little more every day. And we can do nothing. "He says it calmly and calmly at a table in a beautiful old building in St. Gallen. His wife Elisabeth * sits next to him and looks at her hands. He is 51 years old, a small person with a waking face. She said earlier that she was a perfectionist. Her organizational talent is probably related to the fact that she has been undetected for years, says her husband.
His wife answers the journalist's questions herself, complements where she no longer knows, corrects where she mixes. Five years ago, he noticed the first changes in it. She, who had never forgotten anything, seemed more distracted, not focused. Then the first failures and explanations begin. The first diagnosis is Burnout. In autumn 2017. Confidence: dementia of 49 years. In the middle of life, a schedule full of meetings and plans, the daughter is only 14 years old. "A disaster of incredible size," says Giuseppe Passoli. "My wife forgets who she was, not me."
"I have dementia. Please be patient. »
Few people suffer from dementia since Elisabeth Passoli. But the older, the higher the risk, among people over 90, almost 40 percent suffer from some form of dementia, most of them suffer from Alzheimer's. Dementia means "de-spiritualising." The victims lose their orientation – spatially, temporarily and socially. What's more, they lose awareness of their own biography. They are completely dependent on care. Elizabeth still knows who she is, where she lives. He can still shop alone – but only to Migros, whom he has known for 20 years. He always shows his card at the checkout. He says: "I have dementia. Please be patient. "People get angry so soon because of her," he says quietly. "In our high-performance society, people with dementia are like sand in the transmission, they disturb," says her husband.
In Switzerland, the number of people with dementia is growing rapidly.
156,700 people in Switzerland suffer from dementia – 20 percent more than in 2014. We are aging as well as dementia. By 2040, the Alzheimer Switzerland Association expects in the just published forecast, which affects almost 300,000 people. It will change and challenge our society like no other disease – not just financial. "We can't close all these people and hope for medicine, we need to find a way while people with dementia can remain part of society," says Stephanie Becker, director of the Alzheimer Switzerland Association. "Dementia is not a good disease that you deserve alone." Therefore, our society should be friendly to dementia.
To see how it works, you must drive to Central Switzerland, 1000 meters above sea level. There, in Engelberg, bakery employees know what to do if the same person wants to buy the same bread four times a day. The owner of the cheese shop is trained in dealing with older people who like to try cheese but never carry cash with them. Engelberg is one of the first "dementia-friendly communities" in Switzerland. "Which means nothing other than philanthropic and we've always been here," says Theres Meierhofer. The director of a retirement home and nursing home in the village is a woman with infectious energy. She is the initiator of the project, networks public authorities, trains sellers, distributes information sheets, and talks to policemen. Educational work urgently needed.
Dealing with people with dementia can be demanding.
Only 35 percent of the population feel well informed about dementia, a study recently showed. Dealing with dementia still causes a lot of uncertainty. Because dementia is more than forgetfulness. In some phases, people affected show huge changes in behavior. They become loud, aggressive or tearful. According to Meierhofer, the most important thing for a dementia-friendly community is that dementia is not taboo. But one thing that is talked about at a regional bank apéritif or discussed in school classes – the home director has already lectured in both places. "People like to help, but they need to know how."
Shame is great, worst loneliness
But shame, own memory, own behavior are no longer able to trust, which is huge among those interested. Many no longer have the courage to join people. Guiseppe Passoli knows this shame as a relative. "Even Elisabeth can't see that she is different." Many friends and acquaintances turned away. "Elisabeth is still so young, her friends have difficulty adapting to her dementia." They no longer knew what to do with her, conversations became more and more difficult. It won't take much. For example a walk.
Elisabeth Passoli likes to walk. Almost every day she is out alone, alone. Always the same route at a fast pace. Her therapist recommended it to her. Come out, challenge the brain, don't give up, somehow master everyday life. It also means that he sits on the bus once a week and goes to the former freight depot zone. Here, it was rented by the Mosaik association. Co-directors Ulla Ahmann and Cristina De Biasio are sitting in a large, bright room. Everything in this temporary application is new, modern and on the move. "Thanks to our daily offer structure for people with dementia not in the green field, but in the middle of the city, to live," says Cristina De Biasio. People with dementia should be here. Not everyone is very old and totally dependent on help. Dementia is considered a large part of the population from the end. It is forgotten that the disease sometimes also begins, crawling, often unnoticed, says the nurse.
From this summer, the Mosaik association also offers a daily structure in St. Gallen in addition to the discussion and travel group. People with dementia under the age of 65 or affected by early stages can now spend their days in this room. Talking and talking together, cooking, walking, arranging, caring, but determined. Elisabeth Passoli also comes here once a week. She says he likes her very much. Feels at ease among peers. Here can not meet any expectations. It is important that both leaders emphasize that they did not inject this offer to release relatives. This is the offer for those affected. "We want to show that you can live with dementia," says Ulla Ahmann. Organized days, offers that keep the brain and mind awake, contact with other people, all of whom can not stop dementia, but alleviate its course, there is also the consent of experts.
Forgetting is one thing and being in good hands is another. Two out of three people with dementia are cared for by relatives in Switzerland at home. Huge mental, physical and financial achievement. Because relatives do this for free, and therefore incur indirect costs of almost 5.5 billion (see chart). "From a social point of view, looking after people with mild dementia at home is an advantage," writes Alzheimer Schweiz. Even in the case of central dementia, home is more cost-effective than home care if one considers the unpaid achievements of relatives. Petra Knechtli also notes that dementia has been taken care of at home longer and longer. He runs a care home for people suffering from dementia Sonnweid in Wetzikon. "Often the victims stayed at home for too long, until the relatives can no longer or the patients are in very poor condition."
Two out of three people with dementia are cared for by relatives in Switzerland at home.
Sonnweid is one of the leading competence centers for dementia in Europe. Everything is done here to ensure a good life for people with dementia. The first thing that hits you during your visit: walking a lot. From the balcony and back, in the garden, to the dust, to the canteen and back. "The desire to move is typical for a certain stage of dementia," says the director. Therefore, the house has wide ramps instead of stairs and many open doors instead of closed stations. 1.5 kilometers of protected freedom. If you want to get out of the main entrance, you need to know the code where freedom ends.
But inside, residents are granted the greatest possible sovereignty. Mr. K. just got up from a nap on the couch in the hallway. In the kitchen of a living group, she is now cutting white pizza. Mr. K. was a good cook, he doesn't remember, but his hands are still known for cutting. At Sonnweid, 270 employees look after around 160 patients with dementia in various forms of inpatient care. They do it with visible dedication. "We talk to people, not about them," says Petra Knechtli. "These people have dementia, they forget their own name, how to put on pants, but their feelings, their feelings remain to the very end."
In a room of silence and the dead
The ending is an important topic in Sonnweid. The house manager leads you to one of the few closed rooms: Peace of Silence. Almost sacred, round structure. Arch niches of black clay are found in the wall niches. Everyone here means a deceased person created by him. 75 numbers are already in the niche for 2019. Many residents die within the first twelve months after entering. Dementia itself is not fatal, but it promotes infectious diseases in the final stages. "We are moving towards a care institution for people with severe dementia," says Knechtli.
Nobody knows how long Elisabeth Passoli can live with her husband and daughter at home. "I no longer plan long-term plans," says her husband. "What Elisabeth can do today may not be able to do during the week." The biggest fear right now is that she is losing her sight. Dementia reached the visual center of the brain. But learning how to read Braille & # 39; and a blind stick is not enough for Elisabeth Passoli to learn. "I hear audiobooks," he says. He can't really understand his illness anymore. Now he lives completely. She seems tired at the end of the conversation. "Have you been here long?"
* Name changed
30 years of AIDS prevention
Globuli-Glaubensstreit: Does homeopathy work?
Sign up for our newsletter
Source link