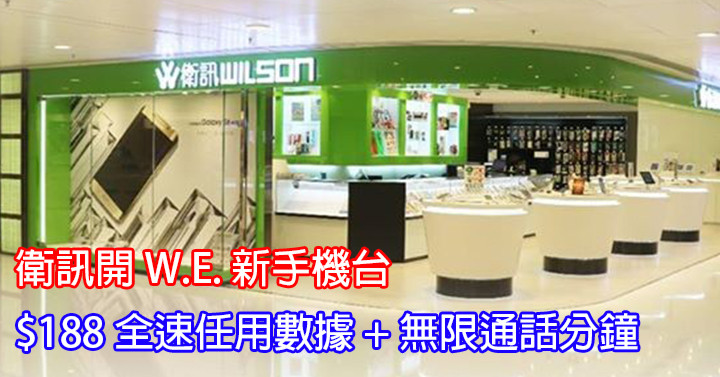 For a moment so nervous! Immediately after writing the text and preparing to leave work, I suddenly saw Facebook as a post by Wei Xun. The content is roughly the introduction of our brand 4G W.E. network service, you will not go wrong! A large store wants to push the business plan out of the network! However, there is no mention of the details of the post. If you want to go to the store, check it out! People at Tsim Sha Tsui, no news what? Fortunately, the supernatural powers of the moderator 乜 大 铺 have friends, they ask for details immediately! 睇 啦 !!
According to Dapu's friends, "W.E." In short, is the joint premiere of Weixun from 3HK to introduce the telecommunications brand and introduce the Plan? The monthly fee is only 188 USD plus a monthly fee of 18 USD. (Wesit members can waive administrative fees)And register for 24 months, you can enjoy the full speed of 5 GB 4.5G, then the data is determined, as well as unlimited minutes of connections. And will the system fall to hell 128 kb / s after 5 GB? Hi! Only that less was allocated in response to the network. It is basically the equivalent of "infinite speed." Positioning is similar to the CMHK 188 USD / Fortress MO + SIM plan.
Weixun X 3HK New Taiwan W.E. Payment Details
Monthly fee: USD 188
Administrative fee: USD 18 (Wesit members can waive administrative fees)
Full data usage: 5 GB + unlimited use
Connection minutes: unlimited
Network provider: 3HK
If you plan to move to Taiwan in the near future, if the goal is cheap, in addition to CMHK or using W.E. in the 3HK network, this will be a new choice.
P.S.1 At this stage, only four satellite points have sold the plan, including Sha Tin, Tuen Mun, Kowloon Bay Telford and Mong Kok, and will continue to sell in more stores.
P.S.2 It is said that there are four other Weixun Zhong plans, i.e. Total has five service plans as follows:
| | | | |
| --- | --- | --- | --- |
| Monthly fee | Administrative Fee | Local use of data | Connection minutes |
| $ 78 | $ 18 | 5 GB 21 M (after unlimited 128 kbps) | Unlimited |
| $ 148 | $ 18 | 5 GB 21 million + data on the meeting | Unlimited |
| $ 188 | $ 18 | 5 GB full speed data + meeting data | Unlimited |
| $ 238 | $ 18 | 8 GB full data speed + meeting data | Unlimited |
| $ 288 | $ 18 | 13 GB full data speed + meeting data | Unlimited |
Below are cheaper, unlimited, unlimited Internet access methods
The price war is coming again! Fortress highlights the new 3HK plan! Presentation of an unlimited amount of Mo + SIM CMHK data
Four competitions! The fastest network provider is the FUP tariff plan with an unlimited 4.5G rate
Join now
Facebook page, news / news / offers, fastest.