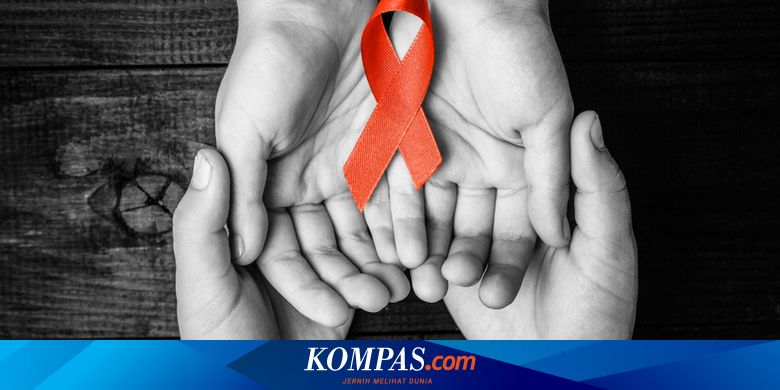 KOMPAS.com- While the Covid-19 pandemic is not over yet, the HIV / AIDS problem should not be forgotten, especially in overcoming it.
It was communicated by the Director of Prevention and Control of Direct Infectious Diseases, Ministry of Health of the Republic of Indonesia, Dr. Siti Nadia Tarmizi MEpid.
"In the face of the current pandemic, the issue of HIV / AIDS must not escape our attention," Nadia said in an online discussion entitled Strengthen cooperation, increase solidarity between stakeholders towards 10 years of fighting AIDS in 2030, Monday (30/11/2020).
This is due to the fact that paying attention to the issue of HIV / AIDS incidence has been regulated in accordance with the Regulation of the Minister of Health No. 4 of 2019 on Technical Standards for ensuring basic quality of services with minimum standards of services for health midwives, for whom the priority was increasing the promotion and prevention of HIV / AIDS.
Also read: Interactive map – evenly distributed throughout Indonesia, Distribution of children with HIV / AIDS
So what is the state of HIV / AIDS cases in the current Covid-19 pandemic?
Based on data from the Ministry of Health of the Republic of Indonesia on the development of HIV / AIDS and sexually transmitted infectious diseases (PIMS) in the second quarter of 2020 – June 2020, the estimated number of people with HIV / AIDS (PLWHA) has reached 543,100 people.
With details, 398,784 people were found and only 205,945 people living with HIV who had just started taking antiretroviral drugs (antiretroviral drugs / ARVs).
It is worth noting that this ARV drug is a drug that is used to treat retroviral infections, especially HIV.
Also read: World AIDS Day, here are the 4 steps in the evolution of HIV into AIDS
In addition, based on a survey conducted by Durex Eduka5eks in 2019, it continues to show that the topic of sexually transmitted infections (STI) was not addressed by teenage consumers, parents, and married couples.
Meanwhile, as you know, HIV / AIDS is also part of sexually transmitted infections.
In fact, 3 out of 10 youth groups in five major cities in Indonesia still believe that interacting with PLHIV in their daily activities can lead to HIV / AIDS transmission.
"A strong spirit of cooperation to increase public understanding, especially in adolescents, about STD prevention and reproductive health is very important," Nadia said.
Illustration of HIV / AIDS
He also said that while the pandemic was still ongoing, we hope that by 2020 Indonesia will be ready for the end of HIV / AIDS in 2030.
The goal of ending HIV / AIDS by 2030 can only be considered successful if there are no new HIV infections, no AIDS deaths, and no stigmatization and discrimination against PLHIV.
STOP HIV / AIDS strategy
To achieve the goal of ending HIV / AIDS in 2030, the Ministry of Health has implemented the Torch, Find, Treat and Maintain (STOP) acceleration strategy.
Suluh is implemented through education aimed at understanding what HIV / AIDS is, approximately 90 percent of the community.
Also read: Scientific inventions that pave the way for HIV / AIDS treatment
Then "Find" is done through early, accelerated testing, and approximately 90 percent of PLWHA people are expected to know their status.
Then "heal" to reach 90 percent of the PLWHA to immediately undergo ARV therapy.
The final strategy is "Maintain", in which at least 90 percent of people living with HIV who are taking antiretroviral therapy (ART) have no detectable virus.
In addition, the Ministry of Health is accelerating ARV therapy, with a target of 258,340 PLWHA in 2020.
Source link