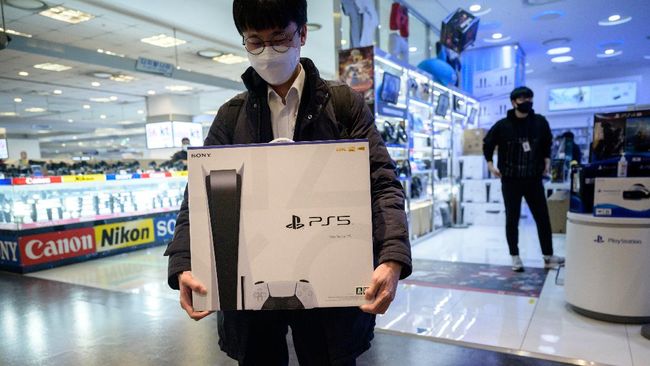 Jakarta, CNN Indonesia –
Sony confirm game console PS5 will have a visual Variable Refresh Rate (VRR) function. This function will be active after the system software update via online in the future.
Provided by Techradar, this information is known from the Frequently Asked Questions (FAQ) page on the official PlayStation website. Sony explained that the PS5 hardware supports VRR over HDMI 2.1.
"With a future system software update, PS5 owners will be able to use the VRR feature of their compatible TV while playing games that support VRR," Sony captioned.
VRR is a feature that users want very much. Especially on high frame rate consoles, considering VRR allows the TV to adjust the refresh rate directly.
Moreover, the advantage of VRR is that it can eliminate moving images that are uneven and disconnected. In this way, the image will move more smoothly during user playback.
However, Sony hasn't said for sure when the software update will enable VRR. However, they also don't want to wait too long for updates.
When active, VRR requires a compatible TV to optimally support these functions. Even the games played need to be compatible to support VRR.
Sony is expected to release PlayStation 5 (PS5) in Indonesia on January 22, 2021. The PS5 Digital Edition will be priced at IDR 7,299,000 and the PS5 with Ultra HD Blu-ray will be available for IDR 8,799,000.
Sony claims that all PS5 models share the same processor, namely the x86-64-AMD Ryzen " Zen 2 ". The PS5 is supposed to handle 4K images and has a very fast 825 GB SSD.
PS5 has a graphics engine based on AMD Radeon RDNA 2 with a variable frequency up to 2.23 GHz. The console memory system is 16 GB GDDR6. In addition, both PS5 models are designed to offer an immersive experience thanks to the DualSense wireless controller and 3D audio features.
Prior to launch, Sony announced that Indonesian consumers will be able to pre-order on December 18, 2020. Pre-order time varies based on the distributor's operating hours.
Sony also sells various PS5 accessories such as sticks for IDR 1.2 million, headsets for IDR 1.7 million, HD cameras for IDR 1 million, remote control for movie navigation and streaming services for 500,000. IDR, charging station for 500,000 thousands to 1 million Rp.
(adp / mik)

[Gambas:Video CNN]