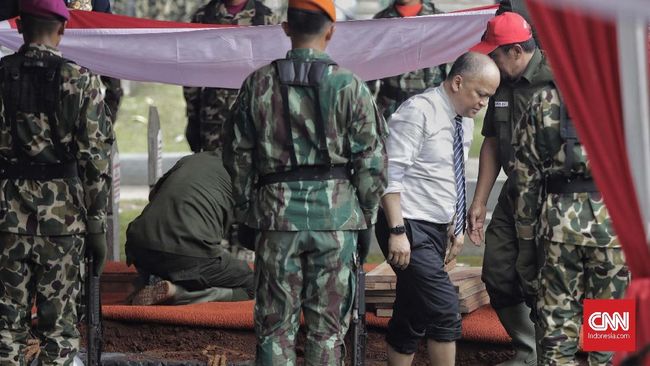 Jakarta, CNN Indonesia – Third President of Indonesia Bacharrudin Yusuf Habibie leaving many works to the Indonesian people. The Habibie family apparently not only mastered science and technology in the aviation sector, but was also fluent in the world business.
Few people know that the Habibie family has a parent company that houses many business sectors, namely the Ilthabi Rekatama group.
To sum up from various sources, this business octopus focuses on four business areas, namely manufacturing, information technology, natural resources industry and the financial sector.
The manufacturing industry sector Ilthabi Rekatama has a branch in the production of castings and radiators, such as the production of radiators, refrigeration engineering systems for cooling and air conditioning. This business is run by his eldest son Ilham Akbar Habibie.
In the field of information technology, Ilthabi Rekatama owns an online media called Orbit Digital. The media are a continuation of the printed version of Orbit Magazine published by Hasri Ainun Habibie.
The Group also owns the mining operations of PT Ilthabi Bara Utama, which focuses on the natural resources industry in the form of coal mining. The company was then sold to Bayan Resources to focus more on PT Ilthabi Energia, which develops alternative energy business, Coal Bed Methane.
Ilthabi Rekatama is the owner of PT Krakatau Ilthabi Adhijaya, which produces pig iron or hot metal factories for the production of raw materials for steel producers. In addition, in this area, Ilthabi Rekatama has a community forest plant (TAHURA) at PT Ilthabi Sentra Herbal in northern Bandung.
It is said that TAHURA conducts research and development of ethnopharmacy through the preservation and use of various drugs processed into herbal products.
Finally, the Group has a financial services company, PT Malacca Trust Wuwungan Insurance Tbk, which is the first company built by the Habibie family.
During the lifetime of B.J. Habibie also contributed significantly to the aviation sector by establishing PT Indonesia Airplane Nurtanio in 1976. With 20 people as initial employees.
During this time, the factory became the only large aircraft factory in Southeast Asia. The factory then changed its name to Nusantara Aircraft Industry (IPTN) in 1985 before it was finally known as PT Dirgantara Indonesia.
[Gambas:Video CNN]
(hns / lav)