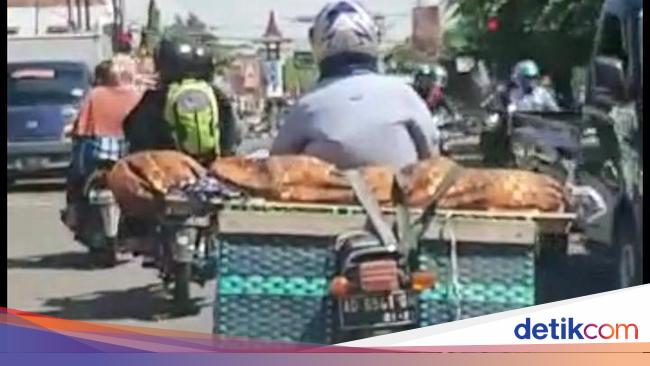 Boyolali –
Videos of drivers carrying gabion bodies went viral on social media. The incident was recorded by residents using other roads on the freeway in the Simo District of Boyolali.
The video shows that the body is placed on the board above the gabion, which is located on the back of the motorcycle. The body is covered with batik cloth and tied with a tire rope.
From the video, you can hear a woman asking what the man who was on the motorcycle carried. Because it looks like a corpse.
"Is that a shit or try why is it so scary? (What it brings is really scary) "he said in the video as you can see detikcom.
"Simo area, this is really cool (What are you bringing?) He continued.
Then there was a conversation with the man. "These people don't (this person or not), he said.
They also suspect that what the motorcyclist is wearing is someone else's body.
When asked for confirmation, the head of the Criminal Investigation Department at Boyolali Police Iptu AM Tohari confirmed the viral incident on social media.
"Yes, the mother's body was brought by her child from Jembungan, Banyudono to Simo," Tohari said after contacting detikcom by phone, Thursday (29/10/2020).
According to him, the incident on the video happened at 10:00 WIB earlier. It is known that the driver's name is Sutejo (50). He brought the body of his mother, Ginema Suharti (80).
Tohari explained that Ginem died this morning at the house of his son, Sri Suyamti (60), a resident of Jembungan Village in Boyolala's Banyudono District.
"Then Sri Suyamti's younger brother, whose name was Sutejo, took his mother's body to Kedunglengkong village in Simo District to be buried there," Tohari said.
Ginem's body is to be buried at his birthplace, Kedunglengkong village. Upon arriving there, Sutejo was to immediately bury his mother's body.
However, relatives and residents were persuaded to bring home first. Because at that time Ginem's body had not been cleansed and was still dressed and wrapped in a jar. Eventually, Ginem's body was taken to a funeral home, and during the day he was buried in a public cemetery.
"The body was buried around 1pm WIB by the inhabitants of Randu Alas's tomb in East Sucen," Tohari said.
Sutejo said it was suspected that the driver who brought his mother's body had a mental disorder. Meanwhile, from information from villagers who were washing Ginem's body, he continued, there was no sign of violence and he died due to age.
(rih / rih)
Source link