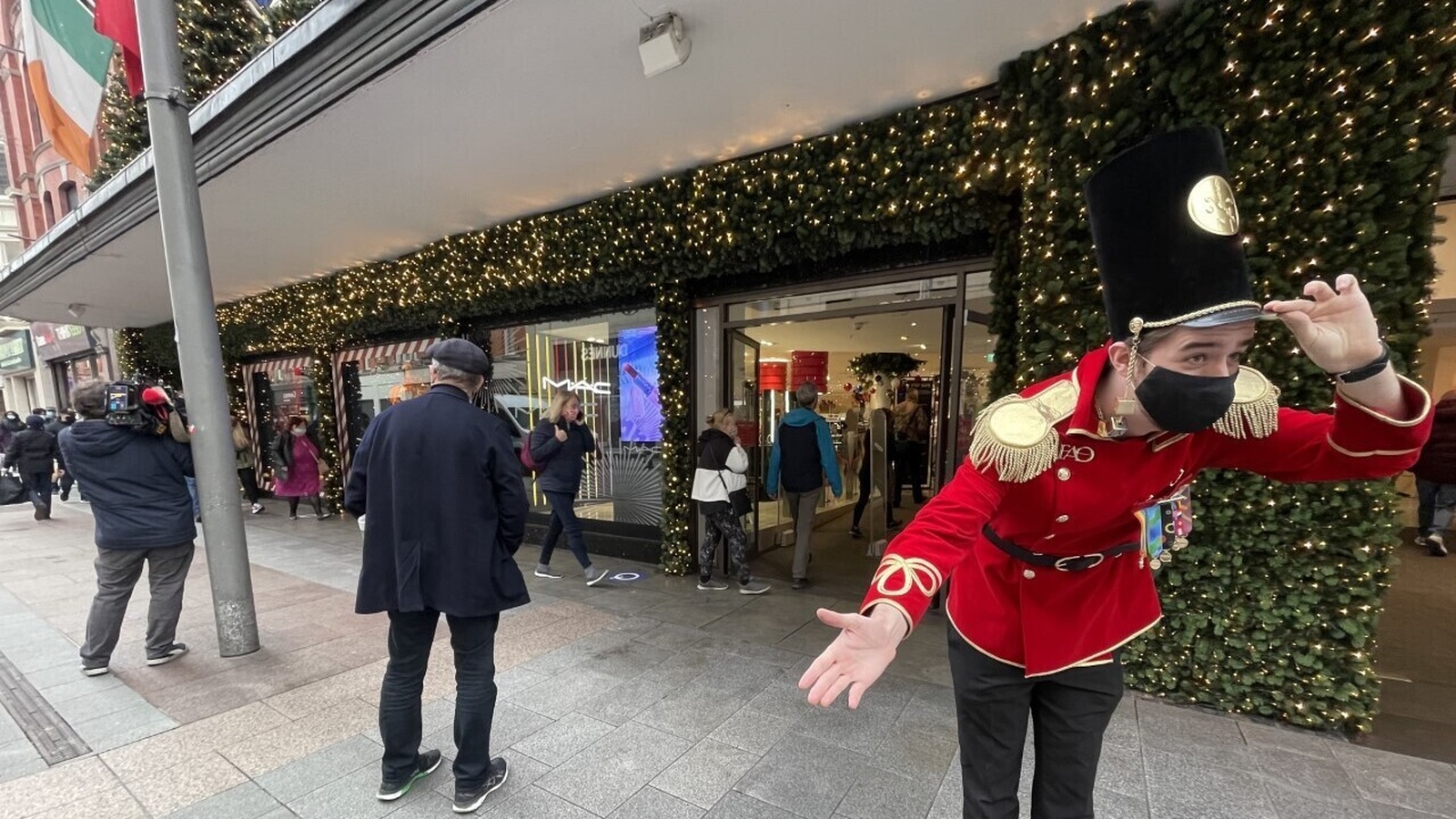 Non-essential retail stores, hair and beauty suppliers, gyms, and leisure centers are among the companies that have reopened to the public nationwide after Covid-19 restrictions were relaxed.
Cinemas, museums and galleries will also be allowed to reopen, but pubs serving food and restaurants will remain closed until Friday.
On Dublin's Mary Street, dozens of people lined up from 4.30am to get to Penneys, which reopened just before 7am.
There was also a long line outside Arnotts department store on Henry St before it reopened at 10am.
However, elsewhere there was no sign of waiting in line in front of other outlets before reopening.
The number of shoppers in Dublin city center started to rise in the early hours of the morning, and after all the stores reopened, trade was lively.
Buyers said they were eager to go back for shopping, with Christmas gifts, decorations and clothes being the main focus.
The stalls on Moore Street reopened for the first time since March and traders said they were looking forward to getting back into business.
We need your permission to load this rte player contentWe use rte-player to manage additional content that may set cookies on your device and collect data about your activity. Check their data and accept them to load the content.Manage your preferences
The Director of Services for Dublin City Council in the north of the city said it was a "busy yet manageable" day in the city center as shops and businesses reopened.
In an interview with RTE's News at One, Coilín O'Reilly said the council was "very excited to reopen the city" and was looking forward to welcoming citizens back to the city center.
Mr O'Reilly said safety was critical and the number of pedestrians on the streets would be monitored by the council and An Garda Síochána.
He said authorities would intervene if necessary to restrict access to the street if it becomes too busy, and reopen it when the number drops.
Mr. O'Reilly said a number of measures were implemented under the Queuing Protocol developed by Dublin City Council, the National Transport Authority, gardaí and business groups.
We need your permission to load this rte player contentWe use rte-player to manage additional content that may set cookies on your device and collect data about your activity. Check their data and accept them to load the content.Manage your preferences
Public transport operators called on the public not to use public transport unless necessary and, if possible, during peak morning and evening hours.
The capacity has been increased to 50% to meet the additional demand.
NBRU Secretary General Dermot O'Leary said its members are concerned about increased public transport capacity and is seeking clarity as to whether this applies to both standing and seated passengers.
---
Everything you need to know about easing the restrictions of Covid-19
Latest Coronavirus Stories
The latest business stories
---
The first buyers walk through the reopened door on Penneys on Mary St, Dublin this morning at 6:42 am. Some said they waited in line from 4:30. Number one on their lists – pajamas. @rtenews pic.twitter.com/BcJWFc2uMB

– Will Goodbody (@willgoodbody) December 1, 2020
Speaking to RTÉ's Today with Claire Byrne, he said the job of bus drivers was not the job of the police, but said he was concerned that they would do their best to transport people, and "by doing so, they not only put themselves under pressure, but pressure on commuters ".
Mr O'Leary said if passengers are told that there are only 32 or 33 seats and the rest have to stand, "people may not be willing to stand up if they see empty seats, there is a possibility of blocking the middle door."
In the meantime, Retail Ireland expects 1.2 billion euros to be spent in retail stores this December, above the normal month.
Some malls have put up temporary shelters outside for customers in case they have to cut down on entrances due to overcrowding.
To even out the number of visitors, some retailers say they will stay open until tonight and tomorrow, while many others will open earlier and close later than usual.
Dublin Town organization said it expected around two-thirds of last year's footfall from now until Christmas.
According to the latest government recommendations, face shields should be worn in busy or crowded outdoor environments where there is a large community, such as crowded shopping streets.
Individuals are also asked to continue working from home, unless absolutely necessary in person.
Health Minister Stephen Donnelly said he was cautious about reopening from tier 5, but added it was a "good day".
He asked people standing in line this morning to abide by public health guidelines and wear face covers outside.
Donnelly said retailers would take all precautions "as from the beginning" but said people have to remember the basics and ultimately the idea is for each person to limit their contacts.
Retail Excellence said many of the 50,000 retail workers who benefited from the pandemic unemployment benefit in October were returning to work as of today, but we warned Covid will face further casualties in retail.
Its managing director Duncan Graham said he hoped retailers would be able to trade as they did at the end of the second quarter, when the first lock rebounded.
We need your permission to load this rte player contentWe use rte-player to manage additional content that may set cookies on your device and collect data about your activity. Check their data and accept them to load the content.Manage your preferences
Speaking to RTÉ's Morning Ireland, he said it would be difficult to get back money that was lost in November, but retailers are ready and waiting for the day for the past six weeks.
He said shopping habits have changed over the past year and there are many more open channels for buyers than before – such as online, click and receive.
Graham said there would be further losses to Covid's retail trade and that this was likely to happen early next year as retailers face rent increases.
Speaking on the same program, Sinn Féin leader Mary Lou McDonald called on people to use common sense and be responsible as restrictions are now being relaxed.
She said that you can prepare for Christmas and enjoy the season and access to our families, but also act responsibly and adult.
Ms McDonald's also said the basic principles of hand washing, social distancing, and wearing a mask will have a big impact.
In the city of Galway, the manager of the Eyre Square Center said she expected a steady increase in the number of buyers in the coming days.
Some retailers opened their doors at 6:30 PM, while others did not open until later.
Center manager Avril Smith said the tremendous preparation in recent weeks means crowd management measures are in place ahead of Christmas.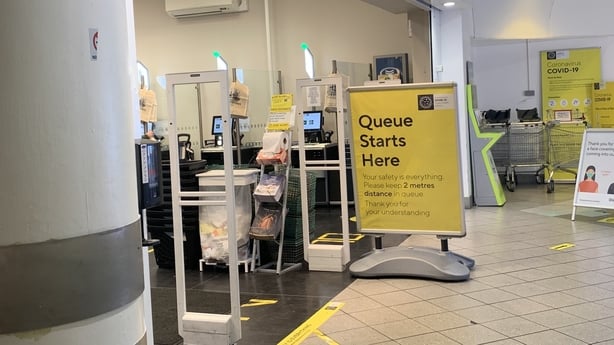 She said additional cleaning and security staff have been hired, all public seating has been removed, and all retailers have individual queuing plans.
Due to social distancing, the Santa Claus Grotto in the Center will not be opened this year.
Ms Smith said there has been a slow but steady flow of shoppers to the Center since this morning, and the reopening of cafes and restaurants on weekends is likely to lead to an increase in the number of visitors to the city.
Sellers expect to be busier from the weekend onwards, with a further increase in buyers as cross-country travel is allowed later this month.
Meanwhile, the infectious disease consultant at St James Hospital, Dr. Cliona Ní Cheallaigh, said that improved ventilation had no drawbacks and had a big impact on reducing the risk of transmission of the Covid-19 virus.
Speaking on RTÉ's Today with Claire Byrne, she said she was opening windows in buses and offices.
Dr Ní Cheallaigh said stores appear to be managing these numbers well and people are following public health advice.
She said people who want to be with vulnerable people over the holiday season should now make every effort to minimize social contact.
Additional reporting by Pat McGrath