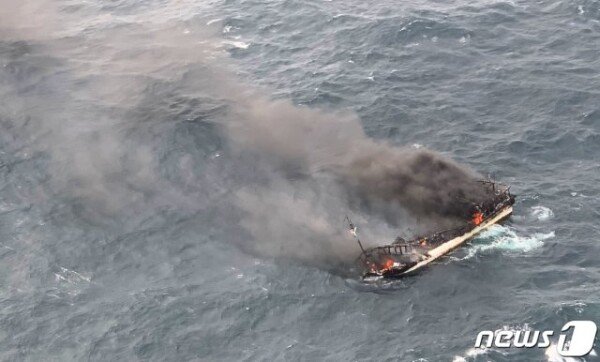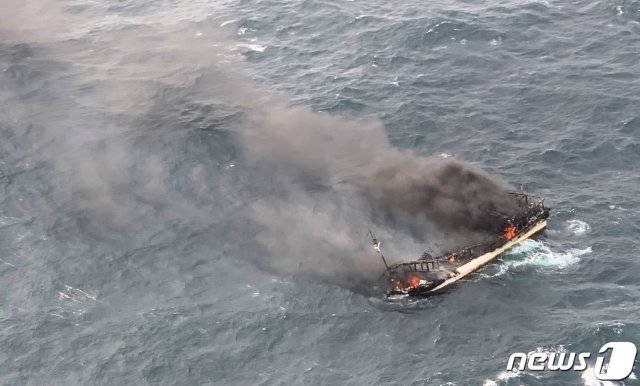 On May 19, a fire broke out in Lake Daesung (29 tons, Tongyeong ship), a fishing boat with a long boat, 76 km west of Chaguido, Jeju. According to the Jeju Police Marine Command, around 7: 9 a report was received that Lake Daesung burns in the sea on the island of Chagwi in Jeju. There were 12 sailors on Lake Daesung and 11 were missing (currently provided by Jeju Maritime Police Agency). 19.11.19 / News1 © News1
As accidents that occur every year at sea on Jeju Island are repeated, it seems that there is an urgent need to take basic measures to ensure safety in the event of ship fires.
According to Jeju Police Marine Agency of December 19, report by Chang Sung-ho, a nearby fishing boat that the fire broke out at 7:05 on the shores of Lake Daesung (29 tons, Tongyeong ships, 12 crews) on a fishing boat near 76 km west of Chagwi-do, Jeju Island. received
After receiving the report, the police immediately searched and found a sailor Kim Mo, 58, near the sea area around 10:21, but Kim, who was taken to a nearby hospital, had already died. Kim suffered a severe burn of his entire body, including his face.
Unfortunately, 11 crew members are missing, including the captain.
Life-saving accidents caused by such seagoing fires are not today.
July 1, 2017 A fire broke out in a combined coastal fishing boat in the southeast of Seogwipo, killing one sailor. December 27, 2015. A fishing boat engine room was killed on the east side of the Seongsan port, Seogwipo.
A similar accident has already occurred in Chagwi-do, Daesungho's sea fire zone.
March 24, 2014, six people died, one went missing in a fishing net on the southwest coast of Chagvi, and one of the sailors on a fishing boat died on October 17, 2012.
In addition to accident casualties, the number of ship fires in Tokyo reached 10 in 2016, 5 in 2017, 17 in 2018 and 7 in August.
Fishing vessels in the province are looking for the causes of further fires and deaths caused by electrical factors.
Most fires were sunk after burning, so it is not easy to determine the exact cause of the accident.
Lee Ki-Yong, president of the Mosspore Shipowners' Association, said: "Ships are very humid and leaks are frequent," he said. "Especially during night operations on a cloudy day, we must turn on many lights such as anchors and navigation lights.
The president of the Hallym Fisheries Association said: "50% of ship fires are caused by electrical problems." In particular, electrical equipment on ships is quickly corroded by sea water.
The basic problem is that tens of millions of dollars are needed to replace old electrical equipment on board the ship. Fishing vessels are gathering to call for administrative support.
Oh Jong-sil, president of the Seongsan Pore Shipbuilding Association, said: "Jeju has many coastal fishing boats. Automatic fire extinguishing devices and fire alarms have already been installed to cover local costs. "" The support needs to be extended because it is useful in the event of a first fire. "
The cause of the Great Lakes fire is still unknown. Maritime police plan to announce after the search and rescue operations are finalized.
Baek Hak-sun, head of the Department of Security and Safety of the Jeju Regional Maritime Police Agency, said: "We have a lot of difficulty searching because of bad weather, such as high waves 3 meters high and strong winds." "We will do our best to save valuable lives of missing persons, mobilizing all national resources. " He said.
AND.
(Jeju = News 1)
Close the window
Featured article
If you forget about the fire accident of the ship "Most electrical factors"
Top featured messages
Source link