Committees verifying ads in the US, UK and Australia "Regret late controversy in the country"
(Seoul = Yonhap News) Reporter Lee Seung-gwan = Samsung Electronics[005930]It was found that there was no problem with the use of the "QLED name" in major overseas countries such as the United States.
LG Electronics[066570]It was reported that it was officially accepted abroad to report to the Fair Trade Committee, claiming that it was " false and exaggerated & # 39; & # 39; in Samsung QLED TV commercials.
Samsung Electronics announced in a press release that day that "since we launched Samsung QLED TV in 2017, we've already decided that there is no problem using the name" QLED "by advertising review agencies in the US, UK and Australia."
Even before the FTC report from LG Electronics, questions arose that the name QLED may be misunderstood in the form of the "Electro-Luminescent QD (Self-luminous)" method abroad, but all were considered "no problem."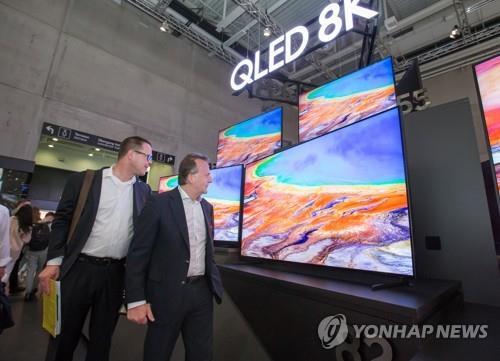 Samsung QLED 8K TV[삼성전자 제공]
According to Samsung, in July 2017, the Australian Advertising Assessment Board (ACB) considered and rejected a third party claim that the use of the name QLED, which means electroluminescence, is a fake advertisement that causes confusion among consumers.
At that time, Samsung emphasized: "Quantum dot technology has two methods:" Photoluminescent QD "and" Electroluminescence. " There is no clear definition of electroluminescence only in industry and the QLED market. " I accepted it.
In October of the same year, the Ad Standards Agency (ASA) conducted a survey on the use of QLED names based on consumer reports, which also proved beneficial for Samsung.
ASA said: "Everyone who knows the term QLED is aware that Samsung QLED is not an electroluminescent method." "Quantum dot technology outperforms conventional televisions such as 100% color intensity." There is no risk of misuse by consumers. "
In addition, Samsung Electronics insisted that a competitor in the US in 2017 said on the website that "Samsung QLED is a regular LED TV and the name QLED is to cause confusion among consumers." He asked and was accepted.
The company representative said: "The name QLED has already been identified as not a problem in major overseas countries, but it is a shame that the controversy in Korea was late."
LG Electronics has recently insisted that Samsung QLED TVs contain false and exaggerated advertisements that mislead consumers as if they were using self-ignition technology called "QLED". Reported to the FTC.
humane@yna.co.kr
<저작권자(c) 연합뉴스, 무단 전재-재배포 금지>
2019/09/29 11:00 Send
Source link