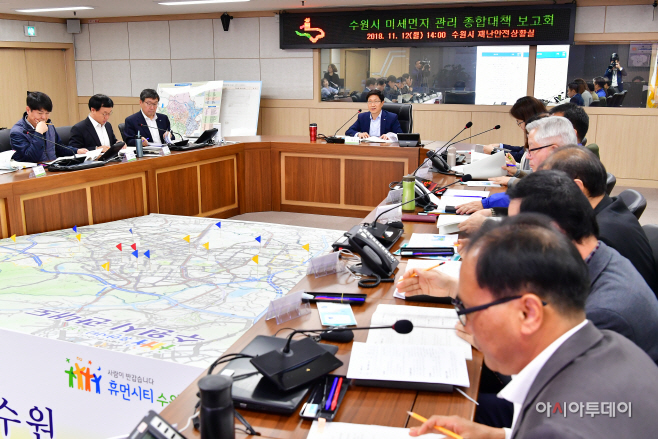 Promote 5 basic strategies for a "safe city without worrying about fine dust"
Suwon City reduces the annual dust concentration by 30% or more by 2022
0
Suwon City, the second vice-mayor of Suwon, will hold a meeting to discuss the progress of the project in the Suwon City emergency room on December 12.
Suwon Gyeonggi aims to reduce the average annual dust concentration by over 30% from 2017 to 2022 and implements five basic strategies to achieve this goal.
According to Suwon from December 12, the annual average dust concentration in Suwon was 26 ㎍ / ㎥ in 2017, and the environmental standard of the Ministry of the Environment is 15 ㎍ / ㎥ per year. The city set itself the goal of "perfecting fine dust" to reduce the annual average dust concentration to 18 ㎍ / ㎥ below the national target by 2022.
A city that is aiming for a safe city without worrying about fine dust will face the situation of comprehensive small dust control measures as the second vice-mayor in the ambulance room on May 12. .
The five basic strategies for achieving the goals are: △ identifying the cause of the event, laying the foundations for effective policy implementation, △ providing accurate information and quick response to minimize public exposure, △ traffic management, industry, Strengthening citizen participation projects to protect the health of citizens and improving air quality by strengthening domestic and foreign cooperation.
In order to establish the basis of fine dust policy, it plans to create a 'comprehensive fine dust testing service in Suwon City' and to introduce changes to 'Prevention of fine dusting in Suwon and management of pollution control'.
The management of "mobile pollutants" should also be strengthened. In addition to expanding the range of green cars, such as hydrogen cars, electric cars and environmentally friendly buses, aging diesel vehicles will support low emissions and plan to implement a shutdown system. We also promote the introduction of a tram (tram), an environment-friendly means of transport.
In addition, to reduce the amount of road dust, we will introduce cars with dust extraction, cars with a spray, sweeping guidelines and we will install a rainwater spray system on the road.
Measures to minimize the creation of "dust pollution sources" are the following: "strengthening dust management and supervision on construction sites", "providing dust reduction technologies to small plants, providing financial support to improve infrastructure", "Award management".
We plan to expand the "urban forest", which effectively reduces fine dust. Plans to expand the area of ​​urban forests by 1119.300 square meters in 2022. To 15.59 million ㎡ by 30%, to promote the project "construction of walls of urban buildings", "garden on the roof, green curtain, garden on the strip", "urban urban arboretum ".
The city provides citizens with accurate information on air quality to minimize damage caused by fine dust. In addition, we have created a rapid response system when there is fine dust with high concentration.
Data is collected from 7 real-time air pollution measurement stations, and air quality information is provided by street electric boards (11 seats) and 'Suwon temperament reminders'. After the issuance of "emergency measures to reduce the emission of high concentrations of dust in the metropolitan area", a response system such as the implementation of the 2nd division of public vehicles will be activated.
In addition, from this year on, a small dust mask has been distributed to "sensitive groups", such as children and the elderly, and air cleaners have been transferred to sensitive facilities such as the headquarters. In 2019, the company will train indoor air quality managers in order to measure very fine dust in sensitive facilities and provide consultancy services in the field of air quality.
It will also run civic participation programs, such as "planting 125,000 trees", "Suwon Fine dust forum", "micro dust traps training". In addition, it plans to create a "cooperation zone for cooperation between smaller dust pollution and cooperation with neighboring cities", a policy regarding participation in the major cities of North-East Asia and strengthen cooperation for joint activities.
The second vice-mayor of Baekun-suk said: "To fundamentally solve the problem of fine dust, it is necessary to precisely identify the cause and prepare the measures based on it." "By carefully analyzing the cause of the formation of fine dust by examining the total number of fine dust sources, I will."