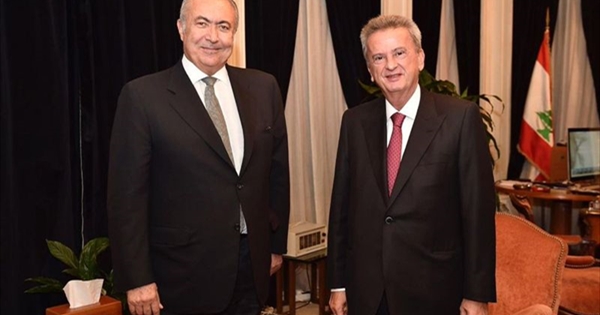 [ad_1]

The Speaker of the National Dialogue Party, MP Fouad Makhzoumi, visited the office of Governor Banque du Liban Riad Salameh in his office and discussed the situation in Lebanon and the region with him.
Makhzoumi said after the meeting: "The visit aims to discuss the general situation in
Country and economic and financial conditions. The Lebanese depend
For wise and honest financial policy and trust Banque du Liban. But required
Today's economic policy is a coincidence, because when the economy is okay, it will be a lira
That's what we aspire to and lose the governor of Banque du Liban.
He turned to
That "the conversation concerned the capacity of non-governmental organizations to help citizens
When you take a micro-loan "indicating that" many can not get
On these services from banks, "noting that" the Makhzoumi Foundation provided about ten
Thousands of loans under the microcredit program to find economic solutions
For small entrepreneurs, especially young people and women. "
"I agree
With the governor in need of accelerating the formation of government, because the economy and public finances in
The country is affected by persistent political differences that negatively affect this issue
Formation of the government. "
He pointed out "the importance of direct implementation of projects
Which Cedar conference recommended to implement the desired economic growth, "he said
That "this goal will not see the light if the future government is formed."
[ad_2]

Source link