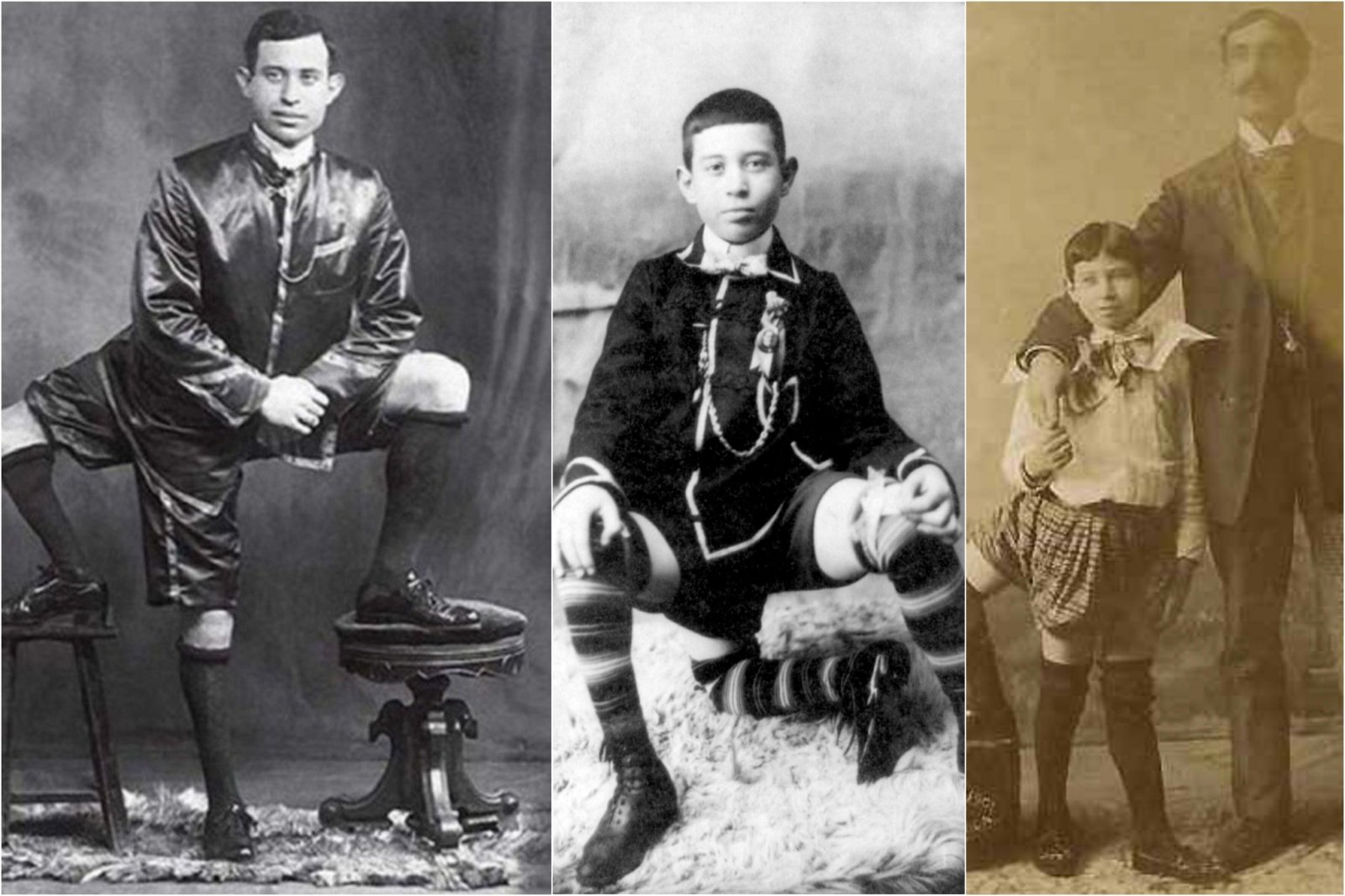 F. Lentini entertained the audience with his tricks for 40 years. In addition, he continued to be a kind of sexual health educator. After a long and successful career, F. Lentini and his dear friend spent the last years of their lives in Gibsonton, Florida, where many circus performers spent the winter. When F. Lentini left this world, his colleagues had such great respect for him that he called him king, writes historymysteries.com.
An amazing child
Frank, whose real name was Francesco, was born on May 18, 1889 in the city of Rosolini, Sicily. He was the fifth of twelve children. Although Lentini later became famous as the Tripod Man, he actually even had a few extra body parts, including a third leg of normal length extending from his right hip, a third foot extending from the knee of his third leg, and a second set of male genitalia.
When Frank was four months old, his parents Natale and Giovanna showed him to one specialist to see if the third leg could be amputated. However, a specialist discovered that Frank was an adult with a parasitic twin brother. His third leg was attached to his spine so it could not be amputated.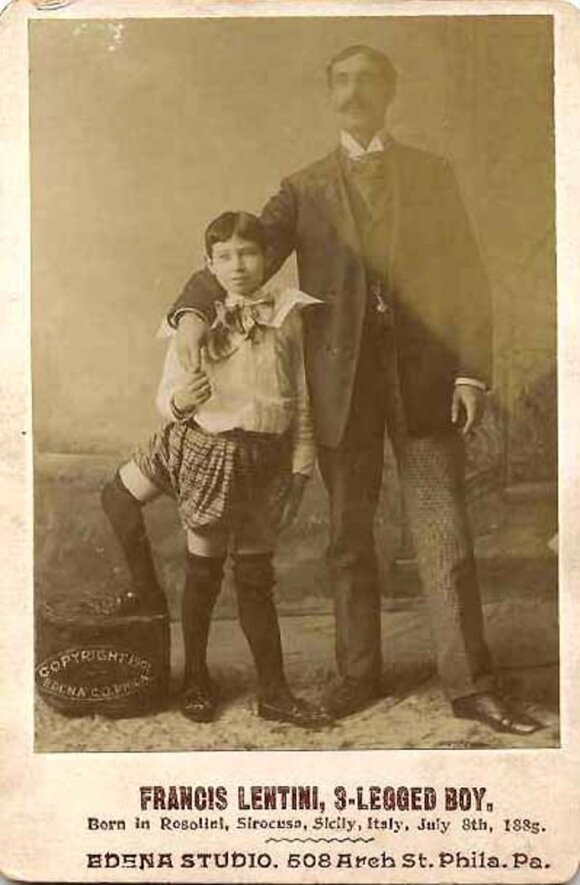 Frank Lentini
The appearance of the child on the tripod shocked everyone. The neighbors called him "u maravigghius" or "miracle", and also "little monster". Due to unwanted attention, the parents gave their son to live with his aunt and uncle for some time.
Relatives also took Frank to a house for disabled children. Frank noticed these kids never complained about their shortcomings. Among the inhabitants of these houses were deaf-blind, blind and children with congenital defects. Mrs. Lentini later wrote: "The visit to this facility, although unpleasant because of the suffering I saw there, was in fact one of the best events of my life. I haven't complained since then. I think life is beautiful and I like it. "
Gradually, the young F. Lentini adapted to his unique body. He couldn't walk on the third leg, but after a while he learned to stretch it. Frank also learned to run, jump, ride a bike, skate, roller and even swim. He later said that a third foot in the water would even give him an advantage – it could act as a tiller.
F. Lentini joins the circus troupe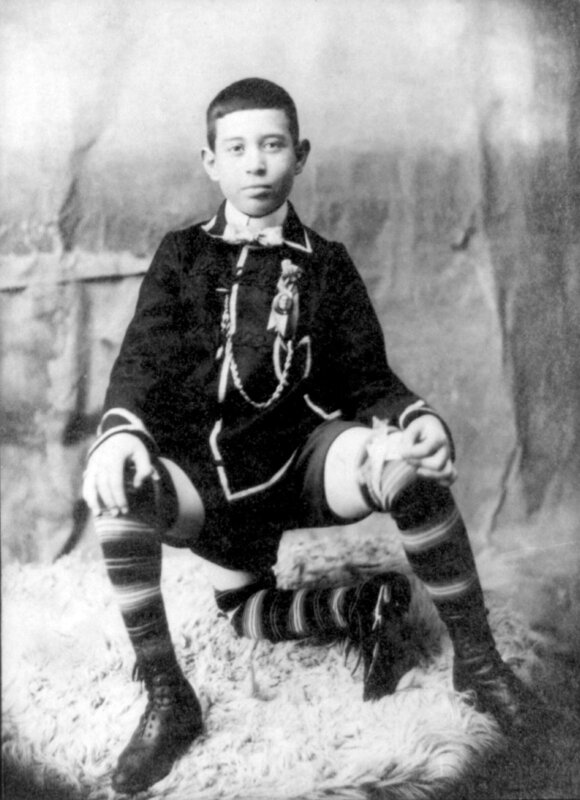 Frank Lentini
Most of the biographical information about F. Lentini comes from his performances in circuses. On stage, F. Lentini told his life story. However, as with other circus performers of the early 20th century, it is quite difficult to distinguish between real and fictional facts.
According to F. Lentini himself, his parents finally took him back and in 1898, when he was only nine years old, he emigrated to the United States. Young Frank was "discovered" in Boston by professional artist and puppeteer Vincenzo Magnano. He convinced Franco's parents that their son could make a career in the circus and offered to join his show.
A year later, Lentini began working with the world-famous Ringling Brothers circus, and in 1906 he made his debut at the Madison Square Garden Arena with the circus troupe Barnum & Bailey.
At that time, the founder of this circus, PT Barnum, was already showing viewers a three-legged man, born in Germany, Georg Lippert. But Lentini quickly eclipsed him with his popularity. On circus posters he was referred to as "triple Sicilian", "the greatest miracle of medicine of all time" or simply "great lentinia".
Great Lentini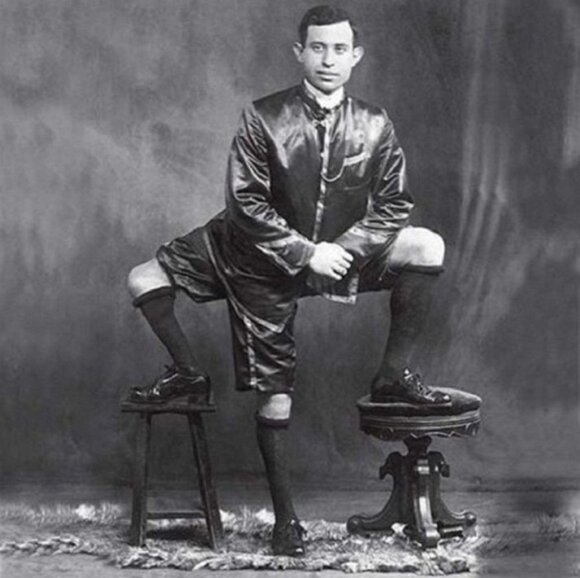 Frank Lentini
© Wikimedia Commons
F. Lentini, who began performing in circuses, quickly became one of the most popular American middlemen. Today, we see a public demonstration of physically disabled people as exploitation, but the circus gave F. Lentini and other similar artists the opportunity not only to earn a living, but also to become celebrities.
Adult F. Lentini weighed about 79 kg. He claimed that the additional body parts weighed between 11 and 13 kg. He also liked to say he had to eat 15 percent. more food to provide energy for the sprouts. On stage, F. Lentini demonstrated his unique body and abilities. He joked that he was the only person who never needed a chair, and then he knocked over his third leg and sat on it like he was on a stool. His performance culminated in a trick when he kicked the ball into the crowd with his third leg.
F. Lentini was also a charming personality and had a sharp wit. A large part of his performances were public question and answer sessions where curious fans asked about the daily life of the third leg. When one of the viewers asked how Frank buys shoes, Lentini replied, "I am buying two pairs of shoes and giving the fourth to a one-legged friend. So you see, every time I buy shoes I still do a good job! "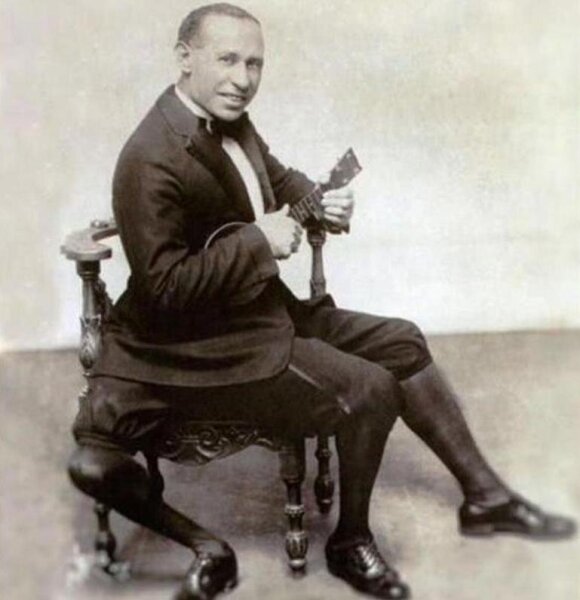 Frank Lentini
© Wikimedia Commons
In 1907, at the age of 18, F. Lentini married Theresa Murray, a Massachusetts girl. They had four children, all of whom were born healthy. The fan was particularly interested in F. Lentini's reproductive ability.
During his program, Lentini sold six-page brochures that gave a description of his life and tips for a healthy sex life. In this brochure, Lentini advised pregnant women to eat healthy, condemn adultery and adultery, and discuss the causes and treatments of various sexual dysfunctions.
The most famous artist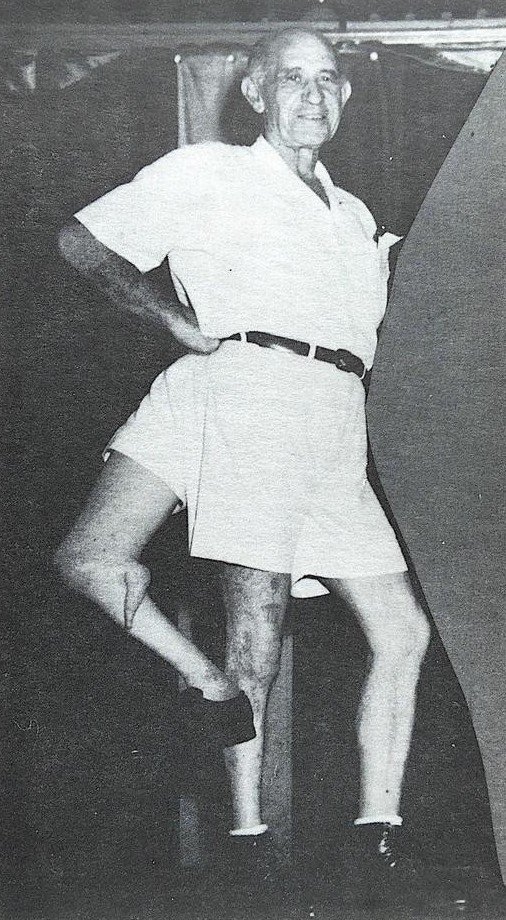 Frank Lentini
© Wikimedia Commons
In his career, F. Lentini collaborated with all major American circuses. He gained such fame that he even started creating his own independent shows. At 30, Lentini became a US citizen. In 1935, he divorced his wife Theresa and spent the rest of his life with another woman, Helen Shupe.
F. Lentini's career lasted 40 years before he officially retired. However, the artist went on tour to continue. In 1966, after appearing on the Walter Wanous Side Show, Frank was admitted to a hospital in Jackson, Tennessee. He died on September 22, 1966 of lung failure. He was 77 years old.
It is strictly forbidden to use information posted by DELFI on other websites, in the media or elsewhere, as well as to distribute our material in any form without consent, and if consent has been obtained, it is imperative to mention DELFI as the source.