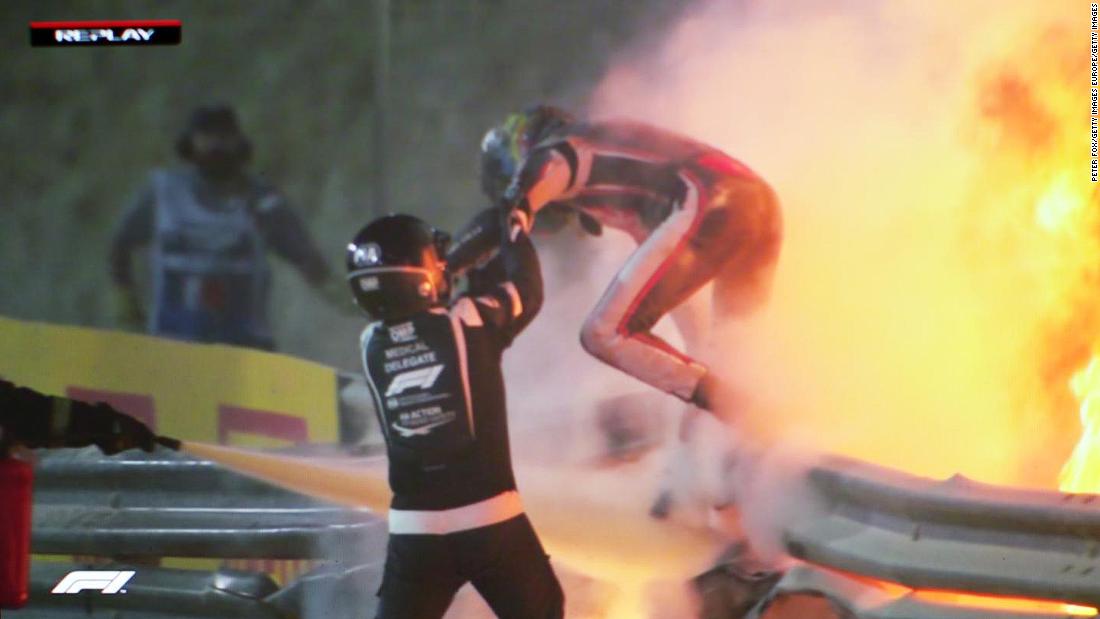 On the first lap, Grosjean left the track after the third corner after some contact with Daniil Kvyat, and his Haas car crashed into the railings, exploded on impact and broke in two.
The French driver miraculously emerged from the flames within seconds and was immediately assisted by the trackside rescue service.
"He's fine, he has had slight burns to his hands and ankles," told Haas team principal Guenther Steiner, Sky Sports. – Obviously shaken and undergoes all necessary checks after such a collision. He is conscious.
The Haas team added on Twitter: "As a precaution and for further medical evaluation, Romain will be transported to hospital."
Sky Sports estimated there was 18-20 seconds between the point of impact and Grosjean's emergence from the flames. The crooked and charred front half of the car that Grosjean had managed to escape from was embedded in the railings on the side of the track.
"I have never seen such a big fire in 12 years," said Alan van der Merwe, medical car driver for Sky Sports. "Then Romain just started getting out of the car himself, which is amazing after the incident like this.
"You can just see that all the systems, halo, barriers, seat belts, everything was working as it should. Without even one of these things, it could have been a completely different result. "
Seven-time world champion Lewis Hamilton tweeted: "I am very grateful that Romain is safe. Wow… the risks we take is no joke, for those of you who forget that we are putting our lives at risk with this sport and what we love to do. Grateful to the FIA ​​for the tremendous progress we have made to ensure Romain leaves the sport safely ".
Grosjean made his Formula 1 debut in 2009 and joined the US team Haas in 2016, though he is expected to leave at the end of this season. The 34-year-old in his career scored 10 podiums.
Source link