More and more heating plants are on the verge of bankruptcy. They were surprised by the increase in CO2 prices, the euro exchange rate and coal prices. Almost overnight, the enterprises were left without cash, reports Rzeczpospolita.
Miejskie Przedsiębiorstwo Energii Cieplnej in Chełm assumed that in 2018 the cost of allowances would be PLN 2 million. Finally, it paid PLN 7 million. It could be even worse at that – even within PLN 10 million. Currently, only emission allowances constitute 20 percent. all plant expenses. In order not to lose liquidity, the town hall should subsidize MPEC with the amount of PLN 80-90 million, which after all does not exist.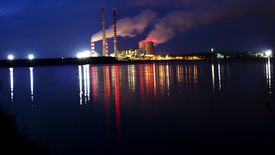 District heating support. The Commission initiates proceedings

Therefore, the city council wants to look for an investor who would like to take over at least part of the shares in the company and spend money on modernizing heating plants.
Watch: What is the cheapest heating method? We asked this question to an expert
The plant in Chełm is not a sensation. The National Fund for Environmental Protection and Water Management estimates that 88 percent heating systems in Poland is inefficient and requires in-depth modernization. Inefficiency translates into the value of services rendered.

The problem of Polish heating plants is low profitability, which in 2018 fell to 1.88 percent and the dramatically low financial liquidity ratio, which is 0.6. This means that companies lack money for necessary investments.
And without these you can not improve the efficiency of heating plants and pay less for emission allowances.
Heat in our homes in 2018 in 72.5 percent. came from coal. This is progress compared to 2017, when the share of coal was 74%, but it is still alarmingly high. Since 2002, the share of coal fuels has decreased by only 9.2 percentage points.

08-11-2019
modernity in the churchthere is no modernization because the money went to the church
08-11-2019
PaulThere is no money, money given away!
08-11-2019
GuestLet them reduce the salaries gentlemen presidents directors etc. PEC There will be more money for modernization and not nibble at poor people

Expand comments (13)
Source link