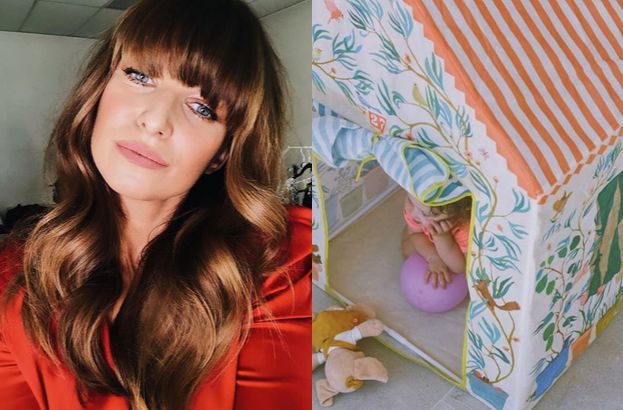 There is a recent fashion among the stars hiding the image of your children. They do not resign from sharing their photos online, but they do without showing kids' faces.
See: Cezary Pazura showed his daughter's face for the first time! "He keeps asking me why he is always back in photos"
Until now, one of the supporters of this type of methods of sharing the charms of maternal life Anna Lewandowska. The trainer made sure that the image of little Klara did not get to the media and from her birth she showed her only from behind.
She hurt her efforts slip-up of Marina Łuczenko-Szczęsna, who invited the Lewandowski family for Liam's first birthday (not Lajama). At that time, Wojciech Szczęsny's wife posted a recording on the web, on which Klara's face was clearly visible.
See: Marina Łuczenko showed FACE of Klara Lewandowska on Instagram! (PHOTO)
Since then, Lewandowska seems to be looser in the issue of protecting her daughter's image. On her instagram profile began to appear photos on which she boldly presented Klara.
See: Anna Lewandowska SHOWED THE DAUGHTER'S FACE! Marina's slip-up influenced her decision?
And although so far the pictures of Lewandowski's children could only be seen from the side, this time her mother decided to go a step further. A photo of Klara appeared on Instagram while playing in a colorful tent. The star no longer tried to hide the image of the child from the world at all costs she showed her face freely.
My little dreamer from a fairy tale. Every day I watch how he meets the world. In this house various magical things happen – we organize parties, relax after moments of joint madness, delve into the world of fairy tales or fairy tales about Puć – she wrote under Lewa's photo.
Enterprising Lewandowska on the occasion she didn't forget to advertise the children's home, available on her website.
See the photo of Klara Lewandowska. Do you think that soon the famous parents will show more photos of her face?