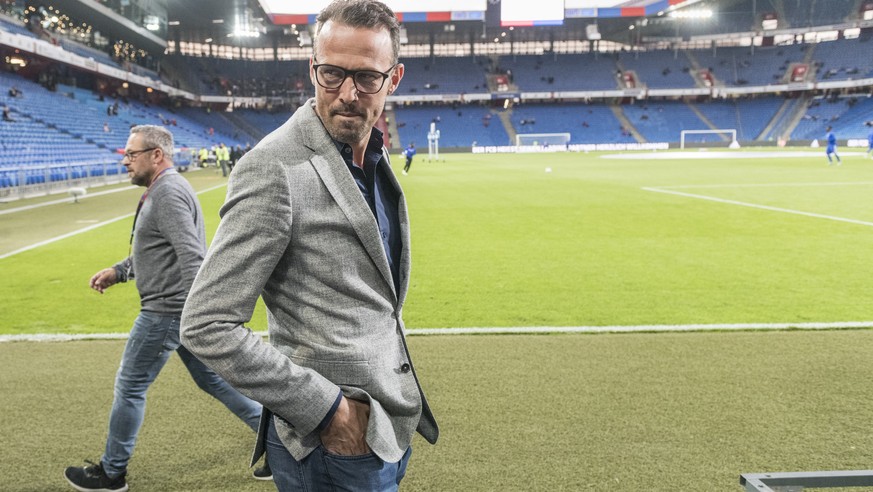 Marco Streller's time for Head of Sport in FC Basel came to an end. Photo: KEYSTONE
The last cartridge was not sitting – it was Streller's term at FCB
Marco Streller is leaving. Sports director FC Basel announced his resignation. His term of office was marked by failures: failed championship titles, unsuccessful European campaigns and unfortunate transfers. Review.
February 2017:

Heusler and Heitz leave

Basel is shocked. A longtime FCB duo with President Bernhard Heusler and sports director George Heits announces a farewell to the knee at the end of the season. He begins searching for successors. The name Marco Streller appears soon.
April 2017:

A new concept of Streller and Burgener

Marco Streller and Bernhard Burgener are definitely presented as the new sports director (Streller) and president (Burgener). Both present the concept that FCB wants to succeed in the future. Because the Champions League is becoming more and more difficult to achieve in the future, they want to make cheaper transfers and instead rely more on young native people and build them.

At the same time, with the new concept, it was announced that Raphael Wicky would take over as coach from Basel in the summer of 2017. Despite winning the Double (Championship and Cup), Urs Fischer has no future with the club.

Urs Fischer is a famous man in Berlin today. Photo: DPA
July 2017:

Summer transfers

Marc Janko and Jean-Paul Boetius have to leave. Ricky van Wolfswinkel, Dimitri Oberlin, and later also Albian Ajeti. FC Basel seems to be ready for the new season. A few days after the opening of the season, Captain Matias Delgado must retire for health reasons.

Did Streller and Burgener bet on a bad horse from Wicky? Photo: KEYSTONE
September 2017:

Failed start of the season

The start of the season is unsuccessful. After ten rounds, Basel already has eight points for the leader (and later the champion) of YB. Marco Streller has unpleasant questions: is the new concept going? Is Raphael Wicky the right trainer?
December 2017:

Back on the track?

After the first round FCB seems to be on the right track. In the Champions League, Basel experienced great nights. In Super League they again scored two points for Young Boys. But sports director Streller has to pull the winter transfer window into two teams: Manuel Akanji changes to Dortmund, Renato Steffen to Wolfsburg.
One of the most important events in Wicky's sprint: Dimitri Oberlins v Benfica
Video: Angelina Graf
Instead, Streller returns to Switzerland two former Basler Fabian Frei and Valentin Stocker. Both can fly away from Akanji and Steffen, but they have not forgotten. In addition, this is contrary to the intended concept of increasing concentration on young people.
May 2018:

Basel must give YB a lead

YB is the champion, Basel has to settle for second place after eight titles in the series and complains 15 points behind the Bernese Mountain. The other half fails. On the one hand, because Stocker and Frei do not go as expected, on the other hand, because "Bebbi" is also harassed by injuries.

Even with Stocker and Frei, Basel YB must allow the first step. Photo: KEYSTONE
July 2018:

Wicky can stay

Despite the weak second half, he confirmed FC Basel: Raphael Wicky remains a coach. Valais warns against its second season at FCB that it can be difficult. Mohamed Elyounoussi, Tomas Vaclik, Michael Lang, Cédric Itten and Alexander Fransson leave the club. This includes Silvan Widmer, Jonas Omlin, Leo Lacroix and Aldo Kalulu. In addition, Streller ensures that Dimitri Oberlin is definitely taken over.
July 2018:

Wicky scored

The month is not over yet, when Wicky has to leave. After weak results in preparation and only two serious fights (1: 2 for the opening of the season against St.Gallen and 1: 2 in the first qualifying match of the Champions League in PAOK Saloniki) Streller spits his coach. The sports director puts pressure on him and says, "The next cartridge must sit." A few days later, he introduces Marcel Koller as Wicky's successor and admits: "We should part with Raphael Wicky during the summer break."
September 2018:

No improvement for Koller

Even for the savior, Marcel Koller goes without Basel. The crisis culminates on September 23 in a bitter 1-7 song at Young Boys. In addition, FCB is not playing for the first time in 17 years in Europe.

Koller was "the contribution of Streller who has to sit". Did she do it? Photo: KEYSTONE
May 2019:

Basel again only second place

In the winter break Streller does not strengthen his team. In the spring, Basel has to leave the Young Boys title again. This time even 20 points behind.
As summarized by Streller before the cup final:
June 2019:

Confusion about Koller

FC Basel apparently negotiates with coach Aarau Patrick Rahmen as a possible successor to Marcel Koller. The management of FCB is unable to keep the talks secret. Koller does not know anything about it and learns from the media that his release is apparently inevitable.

Negotiations with frames are prolonged. FCB refrains from publicly taking a position on coaching. It was only this morning that the negotiations were announced with a designated successor that failed. For now, it seems that Koller is still in office.
June 2019:

Resignation

Streller takes out personal consequences on the same day. He resigns from the function of sports director of FC Basel. It has become "two, three things that I can not accept," as Streller explains in a text message. He retains his office as a member of the Board of Directors and a member of the Board of Basler, but is no longer in operational activity. Koller's cartridge was not sitting.
Most fans on player performance
Sign up for our newsletter
Source link