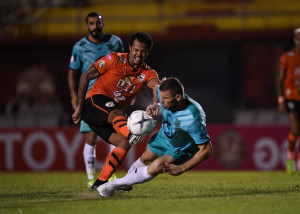 The results of the Toyota Football Cup 2019 semi-final
Wednesday, August 14, 2019
Buriram United 2-0 Nong Bua Phichay FC
Domain: Chaloem Phra Kiat 72 Phansa Min Buri
Doors: 1-0 Apiwat Ngua, Lam Hin, 14, 2-0, July Wiriya Udomsiri, 48
Toyota Football League Cup Finals 2019 On Wednesday, August 14, 2019. At Chaloem Phrakiat stadium, Min Buri, "Prasat Thunderbolt" Buriram United, this five-time champion, found "Phaya Kai Kai" Nong Bua Phichay FC, the toughest team in the M150 championships ( Thai league) 2)
She started the first half of the game, Nong Bua Phichay FC, which appeared in the entire blue set. It starts from right to left, and Buriram United, who enters in a red shirt, spreads navy blue, red socks from left to right of the pitch
Buriram United came in a free kick in the 5th minute before the penalty area on the right. Open the ball crookedly to the left of the penalty area. The defender hit him towards Rasmusyonson. Catch the ball and hit the right one. The ball hit the beam like a castle.
Thunderbolt Castle takes a free-kick after 9 minutes. A beautiful distance, a good chance to face the penalty area. Nasser Barasi You rush to throw the ball, lean over the wall before the ball moves over the beam
OBJECTIVE !!! 14 minutes free kick from Buriram United. Open the ball into the penalty area of ​​Thunder Castle. Hit the ball to compete with a player, Nong Bua Phichay FC, before the ball hits the goal. Apiwat Ngua, Lam Hin hit the ball without hitting Buriram United, leading 1-0.
In the 36th minute, Thunderbolt Castle again took the free kick before the penalty area. Nasser Barasit came in with full right foot. The ball unfortunately jumped on the wall.
45 minutes + 1 Thotsaphon Yodchan paused to re-enter Sassakrai Prakhon, causing the Lightning Castle to be released on the right. Turning the ball into the door, Mohamed Izwan came out to cut the ball. The same rhythm as the referee beat the first half Buriram United was led by Nong Bua Phichay FC 1-0.
OBJECTIVE !!! In the 48th minute Buriram United had a good game. Supanut looked like he had hit the ball into the penalty area so that Rasmussonson touched Nasserbara until July. Mohamed Iswan last scored to go to Buriram United 2-0 Nong Bua Phichay FC
65 minutes after the run it was 2-0. Thunder Castle still opened the game, but it was not as aggressive as in the first period, which meant that he still managed to win the goal.
Buriram United should have escaped to 3-0 in the 76th minute. New Kami crystals hit the ball to pull Nasser Baraziz out of the trap, entering the ball through Mohamed Izwan, Dan Phay Kaios. But the ball rolled to hit the pole before Nong Bua Phichay FC came to kick her
Then the lightning bolt was light, the game broke, as a result Buriram United defeated Nong Bua Phichay FC 2-0 to get to the final. To win in season 6
List of 2 players
Buriram United: Sivarakset Sungnoen (goalkeeper), Phansa Hemwibun, Andres Tueso (C), Aphiwat Ngua Lamson, July Wiriya Udomsiri, Sasakarn Hai Prakhon (Narupodin Wirawat Noom, 61), Ratanakorn Mai, Kami, Supachai Jaiet (Irfan Daulo) , Supanat Maungta, Ras Mussonson, Nasser Barasit (Hajime Hosokin. 77)
Nong Bua Phichay FC: Mohamed Izwan (goalkeeper), Anus Chareontham, Ramon Roi Keiz (C), Apisit Khuankhao (Witthaya Muluang, No. 57), Nat Wuttikarin, Adisak Wongloo, Apisit Khamwang, Wichitchai help, Si Nuan, Sivapong Charoenkilp , Phonglirom, 62), Thotsaphon Yodchan, Bladir Di G (Weerayuth Srivichai, 79)
++++++++++++++++++++++++++++++++++++++++++++ ++++++ +++++++++++++
Source link