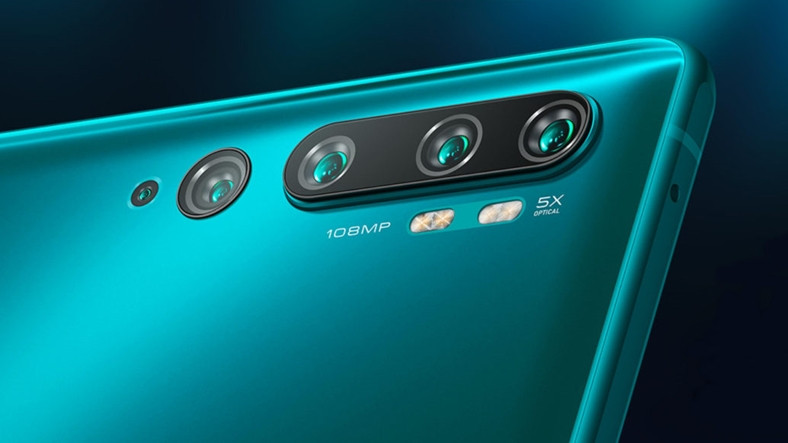 The new Mi Note 10 smartphone, recently introduced by the Chinese technology giant Xiaomi, attracted a lot of attention with the rear camera with a resolution of 108MP. Is this giant camera enough to beat the iPhone & # 39; a 11 Pro and Galaxy Fold? Here's the answer.
XiaomiTwo months after the Chinese manufacturer Vivo unveiled the world's first phone with a 64-megapixel camera, it has a 108MP camera. Mi Note 10 or with the original name Mi CC9 ProHe took the bar to the next level.
The Chinese brand, which has opened a new front in increasingly escalating camera wars, clearly challenges the industrial giants Apple and Samsung. How much does it have in practice? iPhone 11 Pro and Samsung Galaxy FoldXiaomi Mi Note 10 camera, which gave quite interesting results.
Developed in close cooperation by Samsung Mi Note 10 webcamdata from four small pixels 27MP resolution convert images Bayer technique for four people Using.
At this point, you may have a question: if Samsung manufactures these sensors, why not use them on flagships? The same can be said for Apple and Huawei. The reason is quite simple: the higher the number of megapixels, the better the camera performance is not always. Of course, the size of the sensor plays a key role in smartphone cameras; but software is as important as hardware.
In the photo above, the iPhone 11 Pro with a 12MP camera Mi Note 10 with a 108MP cameraYou can see photos taken by. Note that the image from Mi Note 10 is darker. Because more megapixels require more light; however, in the video below you can enlarge the photo of the Mi Note 10 much longer than pixelation.
The lightness between Mi Note 10 and iPhone & # 39; em 11 Pro is slightly reduced when shooting indoors. However, the image from Mi Note 10 is noticeably clearer.
Photo taken with the 108MP Xiaomi Mi Note 10 camera, Samsung Galaxy FoldCompared to the 12 megapixel matrix, we see a similar situation. As you can see in the pictures below, the difference between the performance of two sensors is really significant. It is also ironic that Xiaomi crushed Samsung with its own technology.
However, the 108MP Mi Note 10 sensor clearly loses its dynamic range and overall image clarity when the sun sets. As you can see in the pictures below, iPhone 11 Pro, offers a much more balanced picture when shooting at night.
Specifications Xiaomi Mi Note 10:
6.47-inch OLED display with FHD + resolution (1080 x 2340 pixels)
8-core Snapdragon 730G processor
6 GB or 8 GB RAM options
64 GB, 128 GB or 256 GB of disk space
32 megapixel front camera
Main camera sensor Samsung ISOCELL HMX CMOS 108 megapixels (aperture f / 1.69)
Ultra wide 117 degree sensor with 20 megapixel resolution
12 megapixel portrait focus sensor
5 megapixel telephoto lens (10x hybrid zoom, optical image stabilization)
Macro lens with a resolution of 2 megapixels
On-screen fingerprint reader sensor, NFC
LED on the frame with an emphasis on entertainment
MIUI 10 interface based on Android 9 Pie
5.260 mAh battery with 30 W quick charge.
Kaynak : https://www.forbes.com/sites/bensin/2019/11/06/testing-xiaomis-108-megapixel-camera-against-the-iphone-11-pro-and-samsung-galaxy-fold/#331a3008676e
if (! isMobile) { $ (Function () {
// facebook window.fbAsyncInit = function () { fb.init ({ appId: "1037724072951294", xfbml: true version: "v2.5" }); };
(function (d, s, id) { var js, fjs = d.getElementsByTagName (s)[0]; if (d.getElementById (id)) {return;} js = d.createElement (s); js.id = id; js.src = "http://connect.facebook.net/en_GB/sdk.js"; fjs.parentNode.insertBefore (js, fjs); } (document, "script", "facebook-jssdk"));
$ (& # 39; Body & # 39;). Ten ({ click: function () { // Save on Facebook ajax button If fb.xfbml.p (); } }, ".Facebook-save");
// share the scroll if ($ (". content-sticky"). length> 0) { if ($ (window) .width ()> = 768) { $ (window) .on (& # 39; scroll & # 39 ;, function () { var scrollTop = $ (this) .scrollTop (); $ ("Article"). each (function () { if (scrollTop> = ($ (this) .find (& # 39 ;. content-body & # 39;). offset (). top - 76)) { $ (To) .find (hereinafter & # 39; content & # 39 ;. Sticky) addClass (& # 39; adhesives & # 39 ;.); if (scrollTop> = ($ (this) .find (& # 39 ;. content-body & # 39;). offset.). top + $ (this) .find (& # 39 ;. content-body & # 39; ). height () - ($ (this) .find (& # 39 ;. content-sticky & # 39;). height () + 92))) { $ (To) .find (hereinafter & # 39; content & # 39 ;. Sticky) removeClass (& # 39; adhesives & # 39 ;.); $ (this) .find (& # 39 ;. content-sticky & # 39;). css ({& # 39; bottom & # 39 ;: & # 39; 0px & # 39 ;, & # 39; top & # 39 ;: & # 39; auto & # 39;}); } else { $ (To) .find (& # 39; Adhesive content & # 39;). AddClass (& # 39; sticky & # 39;). Css ({ "Bottom": "initial", "Mountain": "76px" }); } } else { $ (this) .find (& # 39 ;. content-sticky & # 39;). removeClass (& # 39; sticky & # 39;). css ({& # 39; bottom & # 39 ;: & # 39; auto & # 39 ;, & # 39; top & # 39 ;: & # 39; 0 & # 39;}); } }); }); } }
// share the click $ (& # 39; Body & # 39;). Ten ({ click: function () { var $ this = $ (this), dataShareType = $ this.attr ("data-share-type"), dataType = $ this.attr ("data type"), dataId = $ this.attr (& # 39; data-id & # 39;), dataPostUrl = $ this.attr ("data-post-url"), dataTitle = $ this.attr (& # 39; data-title & # 39;), dataSef = $ this.attr (& # 39; data-sef & # 39;);
switch (dataShareType) { facebook case: fb.u acid ({ "share" method, href: dataSef, } function (answer) { if (response &&! response.error_message) { updatehit (); } });
break;
"twitter" case: shareWindow ("https://twitter.com/intent/tweet?via=webtekno&text='+encodeURIComponent (dataTitle) + & # 39;% E2% 96% B6 & # 39; + encodeURIComponent (dataSef)); updatehit (); break;
the "gplus" case: shareWindow ("https://plus.google.com/share?url=" + encodeURIComponent (dataSef)); updatehit (); break;
"mail" inbox: window.location.href = & # 39; mailto:? subject = & # 39; + encodeURIComponent (dataTitle) + & # 39; & body = & # 39; + encodeURIComponent (dataSef); // updatehit (); break;
"WhatsApp" case: window.location.href = & # 39; whatsapp: // send? text = & # 39; + encodeURIComponent (dataTitle) + & # 39;% E2% 96% B6 & # 39; + encodeURIComponent (dataSef); updatehit (); break; }
shareWindow function (url) { window.open (url, "_blank", "toolbar = yes, scrollbars = yes, resizing = yes, top = 500, left side = 500, width = 400, height = 400"); }
updateHit () function { $ .Ajax ({ enter "POST" url: dataPostUrl, data: {contentId: dataId, contentType: dataType, shareType: dataShareType}, success: function (data) {
if ($ (". video-showcase"). length> 0) { var $ container = $ (& # 39 ;. video-showcase & # 39;); } else if ($ ("article[data-id="' + dataId + '"]".) length> 0) { var $ container = $ ("article[data-id="' + dataId + '"]"); } else if ($ (& # 39 ;. wt-share-item[data-id="' + dataId + '"]".) length> 0) { var $ container = $ (& # 39 ;. wt-share-item[data-id="' + dataId + '"]"); } else { $ container = null; }
// var $ container = dataType == & # 39; video & # 39 ;? $ (". Video-showcase"): $ ("article[data-id="' + dataId + '"]");
if ($ container! = null && $ container.length> 0) { var $ badged = $ container.find (& # 39 ;. wt-share-badge - & # 39; + dataShareType);
var $ headerCount = $ (& # 39 ;. content-header & # 39;). find (& # 39 ;. wt-share-count & # 39;), $ containerCount = $ container.find (& # 39 ;. wt-share-count & # 39;), value = parseInt ($ containerCount.html ()) + 1;
$ container.data ("share", value); //$containercount.html(valu A);
if ($ headerCount.length> 0) { //$headercount.html(valu A); }
if ($ badged.length> 0 && (dataShareType == & # 39; facebook & # 39; || dataShareType == & # 39; twitter & # 39;))) { if ($ badged.hasClass ("is-visible")) { //$badged.html(dat A); } else { //$badged.addclass('is-visible').html(dat A); } } }
} }); } } }, ".Wt-share-button") }); }