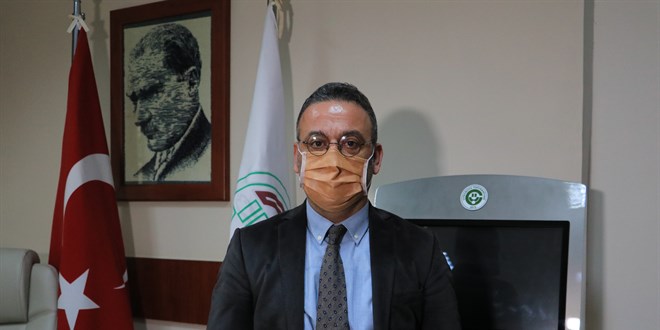 Member of the Scientific Committee of the Ministry of Health prof. Dr. Hasan Murat Gündüz said that in Adana, where cases are increasing, they can now take care of every patient, but they are preparing for a new service and intensive care.
As the number of cases began to rise again in the coronavirus epidemic that hit the entire world, new measures were implemented in our country. Intensive care beds in hospitals began to fill up, especially due to the epidemic, which has increased significantly compared to the last 2-3 months. The experts said that the implemented new measures are already in force.
With the increase in the number of cases and the introduction of new restrictions, a member of the Scientific Committee of the Ministry of Health and Chief Physician of the Balcalı Hospital of the Medical Faculty of Çukurova University. Dr. Hasan Murat Gündüz made a statement to the reporter İHA.
"The measures are quite correct."
Noting that the measures were implemented, Prof. Dr. Gündüz said: "The number of cases in our country continues to increase. Restricting human movements is absolutely important. The rise or fall of this can change depending on the message society is receiving. Because if the society is satisfied, the number of cases will increase, and its increase means an increase in the number of active patients. "The public must also get good news about these restrictions so that they learn to do so until they are vaccinated," he said.
Noting that the number of patients staying in intensive care units is also growing, Prof. Dr. Gündüz said: "We are currently able to serve our patients in Adana, but we are preparing additional resources for new services and intensive care units to cope with the intensity that may occur in possible increases. Now we can invest in services and intensive care units as quickly as possible. "It is important not to compromise to implement measures so as not to exceed this capacity. If the measures are not implemented sufficiently, the number of cases will continue to increase. It's important to apply the measures to the end and be protected from all infections. "
"The vaccine is not negative"
Providing information on vaccination studies and explaining that he was also vaccinated, Member of the Scientific Committee of Prof. Dr. Hasan Murat Gündüz later said:
"So far, no undesirable complications have been reported. Vaccinations are very important. The only way to protect against this disease is to get vaccinated and make the public immune. It is important that the public be vaccinated. I hope we will only be able to combat this disease after release vaccine and offering it to our people's service. " Citizens are also vaccinated. I have not seen any side effects. So far, no information has been made available on any side effects. "