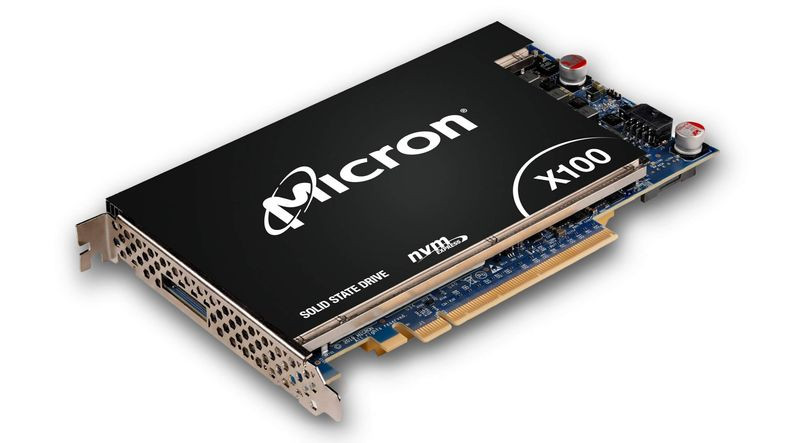 [ad_1]
The new Micron controllers are ready to conquer the server market; broke the record speed of reading and writing. 3D Xpoint disks have exceeded the limit of 9 GB read and write per second.
modernization with computers memory and memory units are developing together, and data access times are shortening day by day. Micron, now the world's fastest SSDs prepare for further mixing.
X100 named SSDfor a second 9 GB read and write speed This can be achieved. To do this 2.5 million interface connections and only 8 microseconds delay. There are other SSDs that reach a similar point, but the difference in X100 is that it can reach this level without the need for additional cooling, irregular flow.
"The potential of 3D Xpoint technology relates to data centers"
Sumit Sadana, Vice President and Chief Operating Officer of Micron "Micron advanced X100 Product, 3D Xpoint transfers the shocking potential of its technology to data centers. For application cross-border performance and enables new uses of yeni and showed their confidence in the product.
Micron before Intel in association with IM FlashGeliştir. 2005 This movement was considered a revolution in the field of storage technology. As a result of this move 3D XPoint Born. RAM and NAND This permanent structure between data can carry very heavy data and reduce latency. Quite expensive Intel Optane SSDThis structure comes from Micron more available It will be. The new drive will also be expensive, but more affordable prices or higher efficiency it will probably be equipment.
X100There is currently no direct opponent. Existing PCIe 4.0 SSDare the fastest on the market 5 GB per second cannot cross the threshold. Rally 0 Although this threshold has been exceeded in a configuration that is too unstable for most operations, such as.
X100Currently the closest competitor Samsung PM1733 and Samsung PM1735 Looks like these drivers 8 GB per second speed. Writing speed 3.8 GB He is staying. Micron, but these drivers are release date He said. Micron does not have to rush, and if his new drivers are as good as on paper, they have a lot of time before their rivals catch them.
Micron introductory video:
Kaynak : https://www.techspot.com/news/82509-micron-first-3d-xpoint-drive-breaks-9-gbs.html
if (! isMobile) { $ (Function () {
// facebook window.fbAsyncInit = function () { fb.init ({ appId: "1037724072951294", xfbml: true version: "v2.5" }); };
(function (d, s, id) { var js, fjs = d.getElementsByTagName (s)[0]; if (d.getElementById (id)) {return;} js = d.createElement (s); js.id = id; js.src = "http://connect.facebook.net/en_GB/sdk.js"; fjs.parentNode.insertBefore (js, fjs); } (document, "script", "facebook-jssdk"));
$ (& # 39; Body & # 39;). Ten ({ click: function () { // Save on Facebook ajax button If fb.xfbml.p (); } }, ".Facebook-save");
// share the scroll if ($ (". content-sticky"). length> 0) { if ($ (window) .width ()> = 768) { $ (window) .on (& # 39; scroll & # 39 ;, function () { var scrollTop = $ (this) .scrollTop (); $ ("Article"). each (function () { if (scrollTop> = ($ (this) .find (& # 39 ;. content-body & # 39;). offset (). top - 76)) { $ (To) .find ("Adhesive content.) AddClass (& # 39; adhesives & # 39 ;.); if (scrollTop> = ($ (this) .find (& # 39 ;. content-body & # 39;). offset (). top + $ (this) .find (& # 39 ;. content-body & # 39; ). height)) (($ (this) .find (& # 39 ;. content-sticky & # 39;). height () + 92))) { $ (To) .find ("Adhesive content.) RemoveClass (& # 39; adhesives & # 39 ;.); $ (this) .find (& # 39 ;. content-sticky & # 39;). css ({& # 39; bottom & # 39 ;: & # 39; 0px & # 39 ;, & # 39; top & # 39 ;: & # 39; auto & # 39;}); } else { $ (To) .find (& # 39; Adhesive content & # 39;). AddClass (& # 39; sticky & # 39;). Css ({ "Bottom": "initial", "Mountain": "76px" }); } } else { $ (this) .find (& # 39 ;. content-sticky & # 39;). removeClass (& # 39; sticky & # 39;). css ({& # 39; bottom & # 39 ;: & # 39; auto & # 39 ;, & # 39; top & # 39 ;: & # 39; 0 & # 39;}); } }); }); } }
// share the click $ (& # 39; Body & # 39;). Ten ({ click: function () { var $ this = $ (this), dataShareType = $ this.attr ("data-share-type"), dataType = $ this.attr ("data type"), dataId = $ this.attr (& # 39; data-id & # 39;), dataPostUrl = $ this.attr ("data-post-url"), dataTitle = $ this.attr (& # 39; data-title & # 39;), dataSef = $ this.attr (& # 39; data-sef & # 39;);
switch (dataShareType) { facebook case: fb.u acid ({ "share" method, href: dataSef, } function (answer) { if (response &&! response.error_message) { updatehit (); } });
break;
"twitter" case: shareWindow ("https://twitter.com/intent/tweet?via=webtekno&text='+encodeURIComponent (dataTitle) + & # 39;% E2% 96% B6 & # 39; + encodeURIComponent (dataSef)); updatehit (); break;
the "gplus" case: shareWindow ("https://plus.google.com/share?url=" + encodeURIComponent (dataSef)); updatehit (); break;
"mail" inbox: window.location.href = & # 39; mailto:? subject = & # 39; + encodeURIComponent (dataTitle) + & # 39; & body = & # 39; + encodeURIComponent (dataSef); // updatehit (); break;
"WhatsApp" case: window.location.href = & # 39; whatsapp: // send? text = & # 39; + encodeURIComponent (dataTitle) + & # 39;% E2% 96% B6 & # 39; + encodeURIComponent (dataSef); updatehit (); break; }
shareWindow function (url) { window.open (URL, "_blank", "toolbar = yes, scrollbars = yes, resizing = yes, up = 500, left = 500, width = 400, height = 400"); }
updateHit () function { $ .Ajax ({ enter "POST" url: dataPostUrl, data: {contentId: dataId, contentType: dataType, shareType: dataShareType}, success: function (data) {
if ($ (". video-showcase"). length> 0) { var $ container = $ (& # 39 ;. video-showcase & # 39;); } else if ($ ("article[data-id="' + dataId + '"]"). length> 0) { var $ container = $ ("article[data-id="' + dataId + '"]"); } else if ($ (& # 39 ;. wt-share-item[data-id="' + dataId + '"]"). length> 0) { var $ container = $ (& # 39 ;. wt-share-item[data-id="' + dataId + '"]"); } else { $ container = null; }
// var $ container = dataType == & # 39; video & # 39 ;? $ (". Video-showcase"): $ ("article[data-id="' + dataId + '"]");
if ($ container! = null && $ container.length> 0) { var $ badged = $ container.find (& # 39 ;. wt-share-badge - & # 39; + dataShareType);
var $ headerCount = $ (& # 39 ;. content-header & # 39;). find (& # 39 ;. wt-share-count & # 39;), $ containerCount = $ container.find (& # 39 ;. wt-share-count & # 39;), value = parseInt ($ containerCount.html ()) + 1;
$ container.data ("share", value); //$containercount.html(valu A);
if ($ headerCount.length> 0) { //$headercount.html(valu A); }
if ($ badged.length> 0 && (dataShareType == & # 39; facebook & # 39; || dataShareType == & # 39; twitter & # 39;))) { if ($ badged.hasClass ("is-visible")) { //$badged.html(dat A); } else { //$badged.addclass('is-visible').html(dat A); } } }
} }); } } }, ".Wt-share-button") }); }
[ad_2]
Source link