[ad_1]

The Spanish championships are two Catalan teams – this is a fact made. "Barcelona" – at the top, and behind her – sensational "Espanyol". "Parrots" used misfires "Sevilla", "Atletico" and "Alaves", taking second place.
His success, "Espanyol" deserved to win over "Athletics". The decisive maneuver was the goal of Borch Iglesias at the end of the first half, when the attacker skillfully closed the application of Vila Didak at a distant post.
Y "Athletics" was a sufficient moment and she played very actively. But the fortune turned away from the Basques, which is evident in the episode in which Williams hit the bar.
So "Athletic" continued his series of losers, which has been going on for centuries – since August.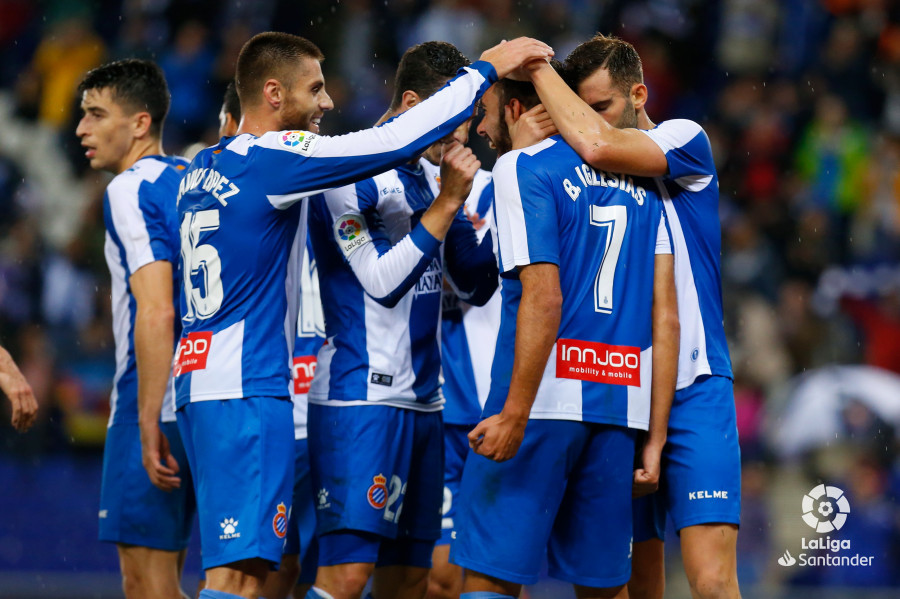 Barcelona Cornell Stadium El Prat. 14,328 viewers
"Espanyol" – "Athletic" 1: 0
Goal: Borja Iglesias 41
Espanyol: Diego Lopez, Borja Iglesias, Sergio Garcia (Javier Puado 78), Sergi Darder, Leo Baptistau (Pablo Piatti 66), Vila Didac, David Lopez, Javi Lopez, Mark Roca, Mario Hermoso, Esteban Granero (Victor Sanchez 87)
"Athletic": Iago Herrerin, Iñigo Martínez, Eray Alvarez López (Unai Nunez 17), Mikel San José, Iñaki Williams, Jüri Bercic, Dani García, Mikel Rico (Iker Muniain 65), Oscar de Marcos, Arritz Aduris (Markel Susaeta 71), Raoul Garcia
Warnings: Esteban Granero 66 – Mikel San José 20, Dani García 48, Unai Nunez 76
| # | Team | AND | in | H | F | M | RM | Oh |
| --- | --- | --- | --- | --- | --- | --- | --- | --- |
| 1 | Barcelona | 11 | 7 | 3 | 1 | 31-14 | 17 | 24 |
| 2 | Espanyol Barcelona | 11 | 6 | 3 | 2 | 15-8 | +7 | 21 |
| 3 | "Seville" | 11 | 6 | 2 | 3 | 22-13 | +9 | 20 |
| 4 | Atletico Madrid | 11 | 5 | 5 | 1 | 13-6 | +7 | 20 |
| 5 | "Alaves" Vitoria-Gasteys | 11 | 6 | 2 | 3 | 15-11 | 4 | 20 |
| 6 | Levante Valencia | 11 | 5 | 2 | 4 | 17-16 | +1 | 17 |
| 7 | real Madrid | 11 | 5 | 2 | 4 | 16-14 | +2 | 17 |
| 8 | "Valladolid" | 11 | 4 | 4 | 3 | 9-9 | 0 | 16 |
| 9 | Getafe | 11 | 4 | 4 | 3 | 11-9 | +2 | 16 |
| 10 | Girona | 11 | 4 | 4 | 3 | 13-14 | -1 | 16 |
| 11 | Celta Vigo | 11 | 3 | 5 | 3 | 20-16 | 4 | 14 |
| 12 | "Eibar" | 11 | 4 | 2 | 5 | 12-18 | -6 | 14 |
| 13 | Real Sociedad San Sebastian | 11 | 3 | 4 | 4 | 12-13 | -1 | 13 |
| 14 | "Betis" Seville | 11 | 3 | 4 | 4 | 8-12 | -4 | 13 |
| 15 | "Valencia" | 11 | 1 | 8 | 2 | 7-9 | -2 | 11 |
| 16 | "Villarreal" | 11 | 2 | 4 | 5 | 9-11 | -2 | 10 |
| 17 | Athletic Bilbao | 11 | 1 | 7 | 3 | 11-16 | -5 | 10 |
| 18 | "Leganes" | 11 | 2 | 3 | 6 | 9-16 | -7 | 9 |
| 19 | "Rayo Vallecano" Madrid | 11 | 1 | 3 | 7 | 12-23 | -11 | 6 |
| 20 | "Huesca" | 11 | 1 | 3 | 7 | 9-23 | -14 | 6 |
[ad_2]

Source link