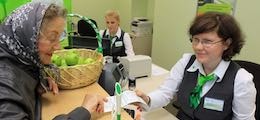 The introduction of artificial intelligence allowed Sberbank to reduce 70% of middle-level managers involved in routine operations.
This was announced at the annual Sberbank Data Science Day by the head of the German Gref bank.
"The expansion of artificial intelligence in the coming years will probably only increase," he said, adding that artificial intelligence replaces man in Sberbank "for a long time".
"We significantly reduce people who perform very simple operations, we have such a system inside Sberbank, which is called the Intellectual Management System, in which there is a motor that learns every day when making decisions and recommendations," said Gref.
"And that led to a huge reduction at various levels, which were related to simple solutions: let's assume that we have reduced about 70% of managers on an average level – the middle link suffers the most", he added.
<! – Location: <середина страницы>->
Most of the shortcuts, according to Gref, were reclassified in Sberbank. "These people are involved in a completely different job today, which we did not even have as a task before, and the level of decision making by these people has increased significantly," noted Gref. (Quotations from TASS).
Sberbank has limited over 14,000 employees since the beginning of the year. In the third quarter, 3,302 people were dismissed, and the number of employees decreased to 296,103 employees.