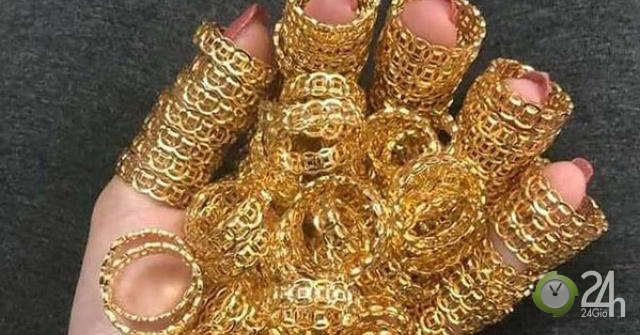 Tuesday, February 12, 2019 1:00 PM (GMT + 7)
Coming to Vía Gods Day, in addition to the gold rings 9999, all kinds of metal rings with gold-plated brass or elephant rings cost only tens of thousands to several hundred thousand dongs are sold on the internet market and prosecuted by buyers …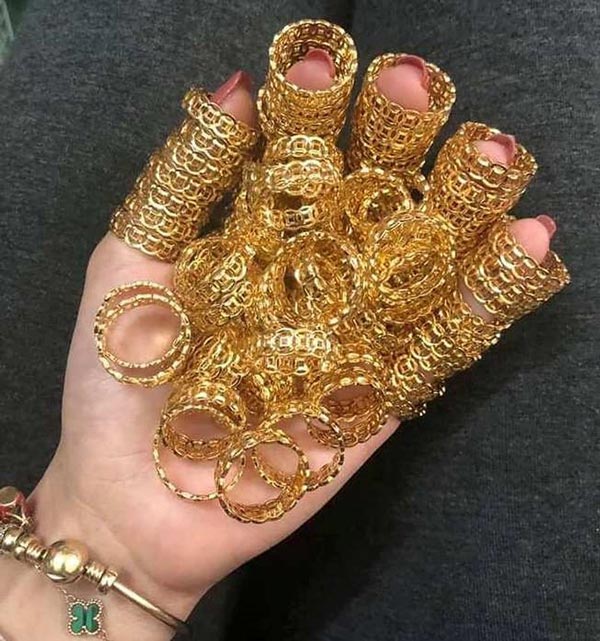 The gold-plated brass ring is sold on the "market".
According to sales announcements, the 10K brass ring with gold is made of a durable copper color that is not faded.
"Money rings are a kind of ring that designs combined coins. Unlike ordinary rings, a ring with money does not only have a cosmetic effect, but also has the meaning of feng shui with the possibility of luck, fortune, money for users …", advertising salesman.
This gold-plated brass ring is sold for 60,000 VND / 2 pieces.
Moreover, to attract buyers, sellers were also introduced, gold coin images depict money and fortune. However, this type of ring consists of many gold coins that are connected to each other without starting and ending points symbolizing constant wealth, no stops or gods are always bringing money, Good luck all year round.
Many sold on the Internet pen rings from a 10-karat elephant worth 330,000 VND / piece.
Another sale of a 10K gold elephant feather ring has introduced, in addition to happiness in a marriage, the love for a fur elephant also brings health, avoids feeling, avoids the wind. So every year, everyone wants to buy a ring with an elephant's feather.
The price of each elephant ring is sold for 330,000 VND. Sellers are required to have a standard 10-carat gold ring that is old enough and certified.
However, according to the owner of the store specializing in gold and silver business in Hoang Mai (Hanoi), currently on the market are available elephant tail feathers in two types: gold rings and silver rings. The gold ring with an elephant's feather has two types: white gold and western gold, buyers often prefer western gold rings. The price of rings with pens of white gold and white gold is similar.
Accordingly, depending on the weight of the gold, the rings have different kinds of prices, standard elephant rings from an 18-carat elephant cost from 2.4 million VND or more. There is a price of 4-5 million dongs, depending on the style and weight; even a ring with an elephant's feather costs tens of millions if there are additional stones.
According to the owner of the gold jewelry, the market now sells two types of gold rings with feathers, gold and gold, mainly gold and 10-carat gold. The price of a 10K gold ring is about 800,000 VND / pc. And an elephant feather ring costs several tens of thousands of dongs to 300,000 dong, all imported from China, so it's cheap.