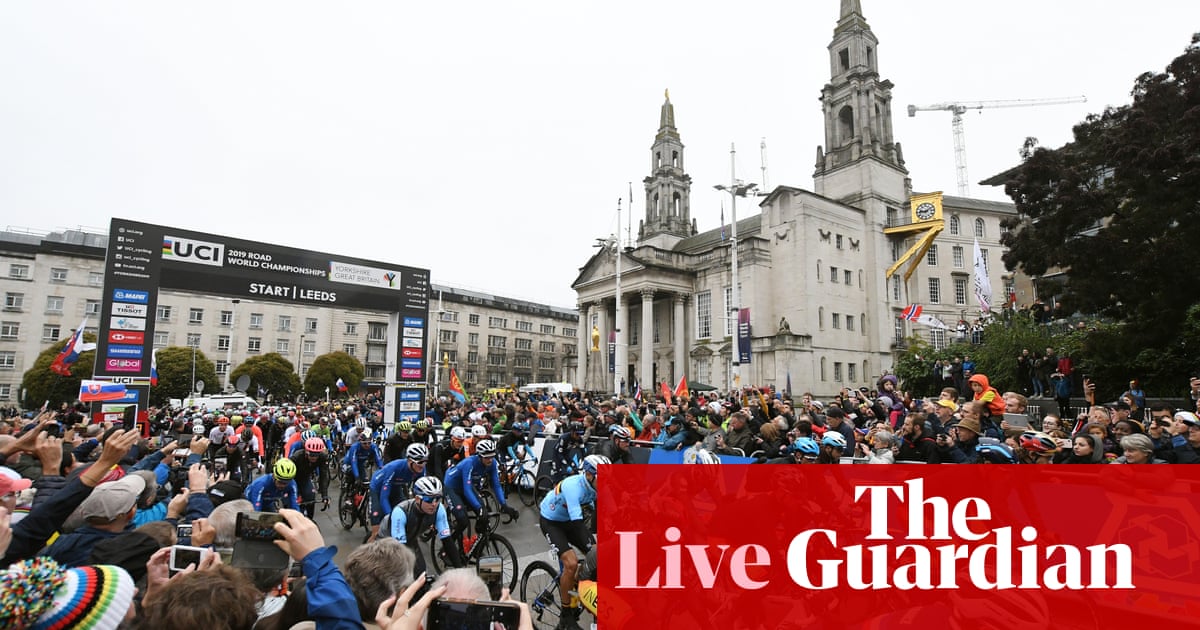 242km: The riders whizz through Ilkley. It's a grand old town. I went there on holiday for a few days in February, when the weather was actually much nicer than it is today. There's another attempt at a breakaway at the front, with Jan Polanc, Daniel Felipe Martinez Poveda and Maciej Bodnar going hell for leather to try and keep the peloton at bay. I don't think they will be successful, though.
246km: Philippe Gilbert has suffered a front wheel puncture and requires a wheel change. There have been a fair few riders who look to have had mechanical issues so far. Julian Alaphilippe appears to be unhappy with his bike, too. He's involved in a conversation with a mechanic in his team car. It's tough out there. With the pace at the front, Gilbert and Alaphilippe could do without this.
250km: The breakaway fails to get away and the riders are just about grouped together again as they race down an A-road in awful conditions. I say they're grouped together but in fact they're rather strung out thanks to the rapid pace at the front.
253km: Martin has been joined by Primoz Roglic and Tom Wirtgen in a group of around six riders. The peloton look like they will reel them back in shortly, though, as they whizz through Otley. Roglic reached a speed of 97km per hour as he came down a sharp descent just then. In the rain!
Updated

259km: The racing begins in earnest along undulating roads out near Otley. And Ireland's Dan Martin has attacked immediately. He's a vision in green as he attempts to put clear air between himself and the front of the peloton. He will have preferred the longer course, one assumes, given his strength on the short climbs that have been removed.
"The news is in. Some riders are not wearing national team branded, bad weather gear, " writes David Hindle. "This is even worse than a sock length infringement. Surely, the UCI must act? But this time, before the offenders reach the finishing circuit. It will certainly change the race outcome, but for the good of cycling, 40 plus riders must be DQ'd immediately! "You're a strict man, David. In terms of knowing who is who out there, it may be very tricky when they get out into the Yorkshire Moors. The TV helicopters have been grounded by the wet weather. There's going to be some harum-scarum riding out there, one imagines. Hopefully nothing quite as bad as this:
Updated

We're off!
The riders are rolling out of Leeds in a 10km neutralized zone. It's tipping it down and many of them a wrapped up like it's December. The racing proper will start when they get to the city's outskirts.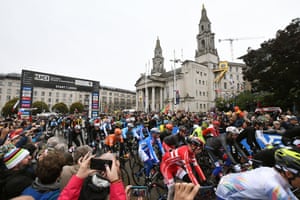 Updated

Preamble
Good morning! Yorkshire in September was always going to be wet and wild for the Road Race World Championships and severe weather conditions have led to today's route being shortened from 284.5km to 261km, with a shortcut from near Aysgarth to Leyburn being taken to avoid dangerous roads. It means the riders will now make nine circuits around Harrogate instead of seven which may mean there is a bigger group at the finish than was previously anticipated. Will the shorter race suit some riders more than others? Possibly.
Julian Alaphilippe, who lit up the Tour de France with his brave performances, is among them though the challenge from Belgium will be strong with Philippe Gilbert. Tim Wellens. Greg Van Avermaet and Remco Evenepoel likely to work well together in difficult conditions. And could we have a Dutch one-two in the women's and men's races? After Annemiek van Vleuten's stunning solo win yesterday, could Mathieu van der Poel be inspired to do something similarly brilliant today? Ben Swift and Adam Yates are the most likely challengers from Britain. Geraint Thomas chose not to ride in the individual time-trial so he will offer solid support and may even have a go himself.
Italy could provide a winner today, too. Matteo Trentin is good in the rain. Alejandro Valverde is the defending champion, but conditions do not suit him. Having finished runner-up at the Vuelta, he may not have the legs today, despite the shortened route. You can never write off Pete Sagan, either. Expect him to do something to entertain the throngs of fans in Yorkshire today.
Updated

Source link